Elections Kalbar, Karolin-Gidot Ready to Maximize Economic Potential of Kakap River
By : Herry Barus And Aldo Bella Putra | Saturday, May 12 2018 - 13:00 IWST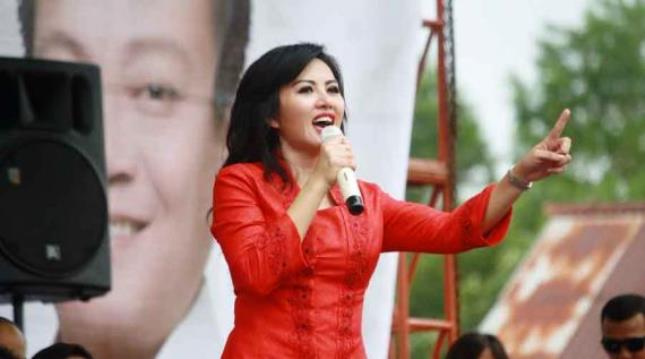 dr Karolin Margret Natasa Calon Gubernur Kalimantan Barat (Foto Dok Industry.co.id)
INDUSTRY.co.id - Pontianak - West Kalimantan Governor candidate number 2, dr Karolin Margret Natasa said he will help maximize the economic potential of the community Kakap River by utilizing existing natural resources and increase human resources in the district.
"If the community entrusts me and Pak Gidot to lead West Kalimantan, we will synergize with the local government of Kubu Raya in improving the economic potential of the people in Sungai Kakap District," Karolin said during a campaign of dialogue in Sungai Kupah Village, Sungai Kakap Subdistrict, Kubu Regency Raya.
Karolin states, so far, Sungai Kakap District is an agricultural area, where most people rely their livelihood from the agricultural sector of palawija and coconut plantations.
According to him, the agricultural potential is clearly a priority in the future, where he has prepared agricultural mechanization program to improve community harvest.
"Alsitan Center in Kakap River District, we will maximize, so as not only as a provider of agricultural tools for the community, but also as a center of agricultural development information for the people of Sungai Kakap and other areas," he said.
The former member of the House of Representatives also added that he also saw a lot of potential that could be developed from the coconut plantation processed by the people of Sungai Kakap.
Known, he said, in the village of Sungai Kupah, there are 1500 hectares of coconut plantation and this village becomes coconut deep breeding areas with superior seeds. That, he said, would be a great potential that could be developed.
"But I saw that there are many coconut shell and coconut husks around here that are not utilized by society, but if it is utilized, it will provide economic value for the society," he said to the media crew.
Karolin states, he will try to maximize it later, where if the Governor of West Kalimantan later, he will provide training for the community to process the coconut husk and shell into a product of value.
"So, in addition to relying on the life of the coconut, which is processed into brown sugar and coconut oil, in the future we expect the community to process the coconut shell and coco fiber into handicraft products.If in Jogja, all the coconut is utilized, and in the future, this also we can do in the River Kakap and some other coconut producing areas, "said Karolin.