Pelni Prepares 26 Fleets to Serve Mudik Lebaran 1439 H
By : Dina Astria And Aldo Bella Putra | Friday, May 18 2018 - 14:00 IWST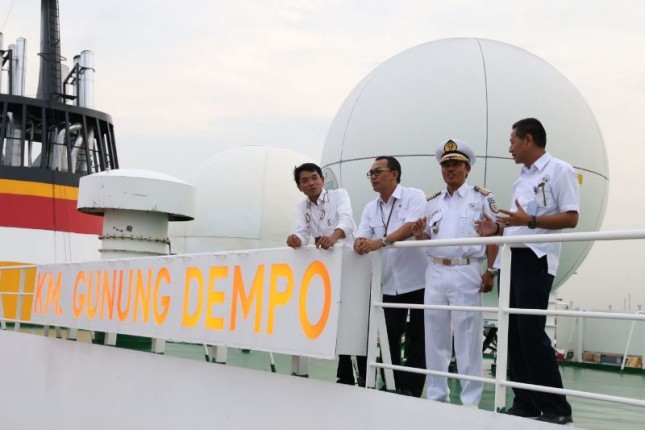 Pelni siapkan 26 armada kapal untuk mudik lebaran 2018
INDUSTRY.co.id - Jakarta - PT. Pelni Indonesia prepares 26 fleets to serve Lebaran 1439 H transport by 2018. The vessel will stop at 91 ports, serving 1,100 sections covering a distance of 98,329 miles with a capacity of 53,763 pax / day, including dispensation. This was conveyed by Director of Fleet PT. Pelni (Persero) Tukul Harsono on a media visit to Pelni in KM. Kelud Thursday (17/5) evening at the Port of Tanjung Priok, Jakarta.
In addition to preparing 26 fleets with Nusantara routes, Pelni is also preparing 47 fleet of pioneer ships to serve travelers to 305 ports, 4,620 segments from large islands to remote and outer islands. "Mudik with Pelni ship more Indonesia. So far, more known from Jakarta to West Java, Central Java and East Java, going home with Pelni ship serving almost to the entire island in the country, "said Tukul Harsono.
Director of OM Passenger Transportation. Sodikin, said, Lebaran transportation with Pelni ship will last for 30 days or one month, starting Thursday (31/5) to Saturday (30/6). "Lebaran transportation period with ships longer than land and air transport," explained OM. Sodikin.
In the last five years, continued OM. Sodikin, the trend of home comers decreased. Year 2012 recorded 815,392 people, in 2013 to 708,272 people. In 2014 there were 763,916 people, by 2015 to 693,793, by 2016 there were 586,322 people and by 2017 to 573,944 people. "Lebaran passengers almost every year tend to go down," continued OM. Sodikin.
Of the 91 ports listed there are 10 ports with the highest embarkation of Makassar's first Branch of 50,989 customers, Surabaya 36. 555 customers, Balikpapan 34,448 subscribers, Baubau 28,731 customers, Ambon 25. 846 customers, Batam Island 24,830 subscribers, Sorong 24,534, Kumai 21,236 customers, Jayapura 20,357 customers and Manokwari 18,722 customers.
Pelni divides three service clusters, the western region consists of Tanjung Priok, Tanjung Pandan, Pontianak, Batam, Tanjung Pinang, Tanjung Balai Karimun, Belawan, Natuna Island, Semarang, Surabaya, Sampit and Kumai. The middle region consists of Makasar, Baubau, Balikpapan, Nunukan, Tarakan, Pare-pare, Bima, Labuan Bajo, Lewoleba and Kupang. To the east, Ambon, Banda Neira, Namlea, Ternate, Tual, Sorong, Manokwari, Biak, Serui, Nabire and Jayapura. "Composition of western passengers 39%, middle area 43% and eastern 19%."
While Armada Director Tukul Harsono added that to anticipate demand, Pelni rerouting to segments of passengers, including for the western region of Batam-Belawan, Kumai-Semarang, Sampit-Semarang, Kumai-Surabaya, Sampit-Surabaya and Balikpapan-Surabaya. "We do not increase the fleet but increase the frequency on the segment of the passengers by mererouting the ship," said Tukul Harsono.
On the homecoming year 2018 Pelni trusted Ministry of Transport to transport travelers from Jakarta to Semarang to go home. Free motorcycle homecoming begins on June 9 to June 22, 2018. "Motorbike homecoming registration has been open since March 23 will end June 2, 2018. Motorcycle travelers can register through the application, and then verified the certainty of his departure," added OM. Sodikin.
In addition to serving homecoming for free motorcycle Kemehub, go OM. Sodikin, Pelni in synergy with 23 SOEs will depart Mudik Bareng BUMN 2018 by providing 23,908 tickets to various departments. SOEs going home using Pelni boat consisting; PT. Bank BRI, PT. Bank BNI, PT. Bank Mandiri, PT. Pupuk Indonesia, PT. Cement Indonesia, PT. Jasa Marga, PT. Jasa Raharja, PT. Jiwasraya, PT. Askrindo, PT. Indonesia Re, PT. PPA, PT. Pelindo 1, PT. Pelindo 3, PT. Pelni, PT. RNI, PT. Telkom, PT. Brantas Abipraya, PT. Pertamina, PT. Jasindo, Perum Jamkrindo and Bulog.
VP Passenger Transportation PT. Pelni (Persero) Sukendro added Pelni ship tickets can be purchased online in several channels in cooperation with PT. Pelni (Persero), Pelni counter, travel agent, website, Pelni 162 Call Center, Alfamart, Indomaret, Fastpay, Darma Wisata and MMBC. Ship tickets go on sale H-45. "Ticket system will lead to digitalisai, forward purchase tickets can be with HP. We keep trying to present as easy as possible how to buy Pelni ship tickets. Payment can be made with EDC Bank Himbara BRI, BNI and Bank Mandiri, "he added.
Ticket ship sold 1 ticket for name and 1 bed / seat. The name on the ticket must be the same as the name to be traveled. Passenger tickets will be verified through the departure control system (DCS) at the port of departure. "If the ticket and identity are not the same, the ticket is declared to be forfeited and does not apply. They cannot board the ship, "he said.