Develop Medical Treatment, Kaikoukai Group Presents KAIKOUKAI JAPAN Medical Tourism
By : Dina Astria And Aldo Bella Putra | Wednesday, May 23 2018 - 18:00 IWST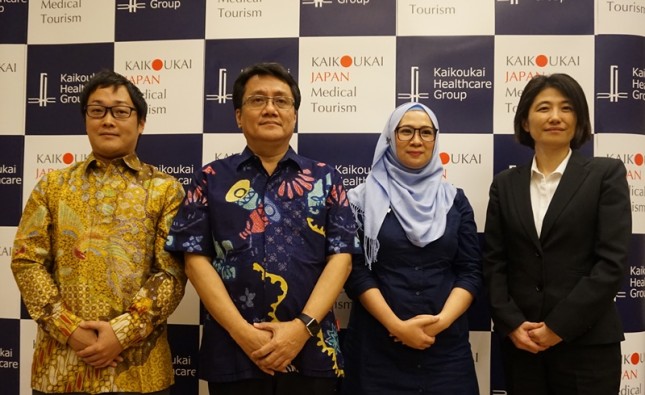 Media gathering Kaikoukai Medical Tourism.
INDUSTRY.co.id - Jakarta - The Kaikoukai Group that develops medical and nursing care in Indonesia and Japan provides "KAIKOUKAI JAPAN Medical Tourism" which is a high-quality minimally invasive medical treatment. Medical tourism for the Indonesian community is focused on the latest medical treatments available only in limited medical institutions in Japan. Focused ultrasound therapy (FUS) for trembling of unknown cause (essential tremor) and medical examination using PET-CT are also added as new options in this medical tour.
New Treatment Methods For Essential Tremors: Focused Ultrasound Therapy (FUS)
Essential tremor is a disease that makes the hand tremble with an unknown cause. This symptom is commonly found in middle age and is a disease that is easy to find because 1 in 10-20 people aged over 65 years can experience these symptoms. Severe tremors will interfere with daily life such as unable to write and cannot hold a bowl or glass.
Generally essential tremor treatment requires surgery. But the focused ultrasound therapy (FUS) developed in recent years is a treatment that does not use a scalpel. This therapy uses MRI images to determine precise or precise treatment positions and concentrates ultrasound waves on one part of the brain that will be thermal ablation. Therapy can be done while observing the condition of the patient so that therapy can be stopped immediately if there are strangeness such as side effects. The physical burden of the patient is also small due to the short duration of therapy and hospitalization, so that the patient can immediately return to life. In Asia, this medical device only exists in Japan. * Patients who can undergo therapy: Patients diagnosed with essential tremor and the effects of drug therapy is low.
Health Checks Using PET-CT
It is said that there are 1.4 people out of 100 people in Indonesia who are cancer patients1. It is important to be able to detect and treat cancer early because the cancer can spread to surrounding or lymph nodes. The results of medical examination and treatment technology of high accuracy in Japan can be seen from the 5-year survival rate data after surgery treatment of cancer. The survival rate for esophageal cancer is 36% and lung cancer is 32.9% which is the highest in the world. As for stomach cancer is 60.3% which is the number 2 in the world.
The health checks provided through KAIKOUKAI JAPAN Medical Tourism will perform complex checks including PET-CT which is effective for detecting cancer. By combining CT, MRI, echo, and PET specifically the breast, small symptoms that are not detected by one type of examination can be checked with high accuracy through double checking even three times.
The Kaikoukai Group radiological diagnostic facility is the first facility in Japan to apply PET-CT clinically. The facility currently has 5 PET-CT units and is the largest PET-CT center in the Chubu (Central) area. The number of PET-CT examinations ever performed has been more than 100,000 cases.
Recommended KAIKOUKAI JAPAN Medical Tourism
In order to support the health of Indonesian society, Kaikoukai Group provides high quality minimally invasive medical treatment through "KAIKOUKAI JAPAN Medical Tourism". In addition to state-of-the-art medical technology, Kaikoukai Clinic Senayan, which is our base in Jakarta, provides the following services to help smooth travel and maintenance.
1. Medical Visa Patients and escort patients from outside Japan need to obtain a medical visa to be able to undergo treatment in Japan. When applying for a visa requires a guarantor and a certificate of examination plan from a medical institution. We work with an international medical exchange coordinator so that we can provide the required application documents to apply for a medical visa in one place.
2. The presence of Indonesian staff Indonesian staff will serve as interpreters. In addition, at each Kaikoukai Group facility there is a Japanese certified Japanese nurse so that patients can focus on having their treatment calmly.