BPH Migas: Fuel Consumption Increases by 14 Percent
By : Hariyanto And Aldo Bella Putra | Sunday, May 27 2018 - 21:00 IWST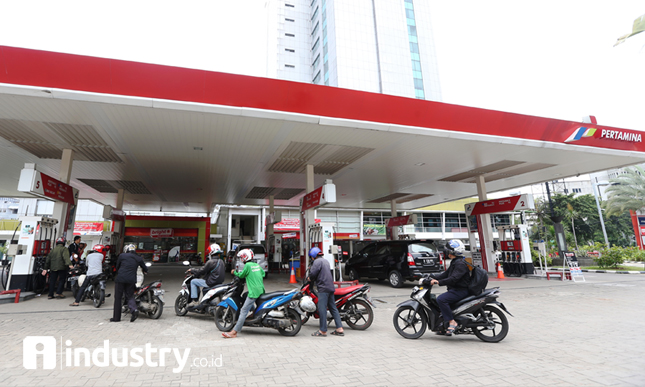 BBM, SPBU (Foto/Rizki Meirino)
INDUSTRY.co.id - Jakarta - The Downstream Oil and Gas Regulatory Agency (BPH Migas) predicts fuel consumption will rise 14 percent during Lebaran 2018.
Data of BPH Migas obtained in Jakarta on Saturday (26/5/2018) mentioned that during the period of Lebaran 2018, the national gasoline (gasoline) fuel consumption is estimated to rise by an average of 14 percent to 104,502 kiloliters per day from the normal condition of 91,971 kiloliters per day.
The highest increase in gasoline consumption in homecoming flow is estimated to occur on June 9, 2018 (H-6) to 124,093 kiloliters, up 35 percent and on June 13, 2018 (H-2) to 121,337 kiloliters (32 percent).
On the reverse flow, the highest consumption increase was estimated at 19,020,010 (H + 4) of 121,064 kiloliters (32 percent) and on June 23, 2018 (H + 8) of 118,510 kiloliters (29 percent).
For the national fuel consumption of gasoline, it is estimated to rise by an average of eight percent to 38,077 kiloliters per day from 35,286 kiloliters per day.
The highest increase in consumption of gasoil is estimated to occur on June 9, 2018 (H-6) of 55,122 kiloliters (56 percent) and the decrease in consumption occurs significantly on the day H to 14,205 kiloliters.
To overcome the increase in fuel consumption has been prepared to increase the stock of fuel and some additional services specifically for the condition of the density of homecoming flow in the main routes and tours.
The Ministry of Energy and Mineral Resources (ESDM) once again held the ESDM National Coordinating Post of Idul Fitri 2018 by appointing BPH Migas as coordinator of the post.
The ESDM National Command will start its working life on H-15 until H + 13 Idul Fitri on May 31, 2018 until June 28, 2018.
"The postal team will monitor every day, divided into two 'shifts', located at BPH Migas.Plan direct field monitoring is focused on infrastructure areas of the ESDM sector including national vital objects as well as related channels of supply and distribution," explained Head of BPH Migas Fanshurullah Asa.
The areas monitored by the National Post are among others subsidized and non-subsidized fuel, three kilograms of LPG gas, urban gas network (jargas), electricity and geology. However, the focus of monitoring will be on fuel and LPG three kg.
"What we should really consider is for fuel and LPG three kg. On the outside is relatively safe, for example electricity, because the electricity, during the run-up to Idul Fitri, from June 8 to 20 it Insha Allah all offices and factories will close, so electricity will fall, ranging up to 20 percent. If for Java may be up to 30 percent," he said.