Government Need to Optimize Potential of Renewable Energy Source Of Sea
By : Hariyanto And Aldo Bella Putra | Thursday, May 31 2018 - 21:00 IWST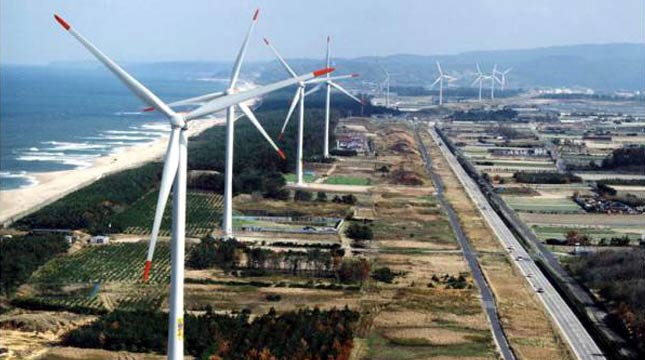 Ilustrasi PLTB (ist)
INDUSTRY.co.id - Jakarta - The government is considered necessary to optimize the potential of renewable energy sources coming from the sea, considering that the territory of the Unitary State of the Republic of Indonesia consists of two-thirds of the territorial waters.
Iskindo (Association of Indonesian Marine Scholars) proposed to the President of the Republic of Indonesia to be more serious in conducting downstream research results and development of new renewable energy investment coming from the sea, said Iskindo Daily Chief Moh Abdi Suhufan in a release on Wednesday (30/5/2018).
The proposal includes the various recommendations that Congress Iskindo has produced, some time ago, accelerating the realization of the world's maritime axis.
"Optimalization of renewable energy from the sea needs to be done especially for the outskirts of the archipelago, especially those with great potential for it," he said.
It aims to support the achievement of clean energy targets as well as to increase the various regions with low electrification rates.
Earlier, Chairman of the Parliamentary Inter-Parliamentary Cooperation Board (BKSAP) Nurhayati Ali Assegaf stated that the energy sector is often a sensitive issue for global stability and security so that the world today needs to be encouraged to develop new and renewable energy.
"Currently the emergency world needs new renewable energy to ensure efficiency and in line with sustainable growth that is environmentally sound," said Nurhayati in Jakarta, Friday (5/18/2018).
Therefore, BKSAP DPR RI also re-initiated the World Parliament Forum for Sustainable Development under the theme "Partnership toward Renewable Energy for All".
The idea of ​​a World Forum of Parliaments scheduled to take place in September 2018 will highlight that non-renewable conventional energy sources are considered to be a source of energy that causes global warming.
The Democrat Party politician asserted that parliament as a crucial institution has an important role in determining the direction of government policy related to legislation, budget, oversight and foreign diplomacy, with the aim of improving the world community and maintaining the sustainability of the planet.
Previously, the Government of Indonesia through the Ministry of Energy and Mineral Resources (ESDM) said it was ready to budget the revitalization fund of Rp66 billion to repair 52 new renewable energy-based power plants (EBT) throughout Indonesia that are currently in a state of damage and not yet handed over to the Government Area.
Director of Infrastructure Planning and Infrastructure Directorate of Renewable Energy and Energy Conservation (EBTKE) Noor Arifin Muhammad on the sidelines of the inauguration of solar power plants centered in the village of Bencah Umbai, Siak regency, Riau, Thursday (5/4), revealed that for now , the government will only revitalize 52 units from about 68 units of damaged infrastructure, on solar power plants (PLTS), micro hydro power plants (PLTMH), hybrid power plants (diesel and solar), garbage power plants city ​​(PLTSa) and biomass power plant (PLTBm).
There are various factors that cause damaged power plant infrastructure. Besides caused by natural disasters, also caused by the vacuum of plant managers because they have not been handed over to the local government while the maintenance period from the contractor has been completed. (Tar)