Toko Tani Indonesia Sells High Quality Cheap Food
By : Wiyanto Dan Aldo Bella Putra | Sunday, June 03 2018 - 18:30 IWST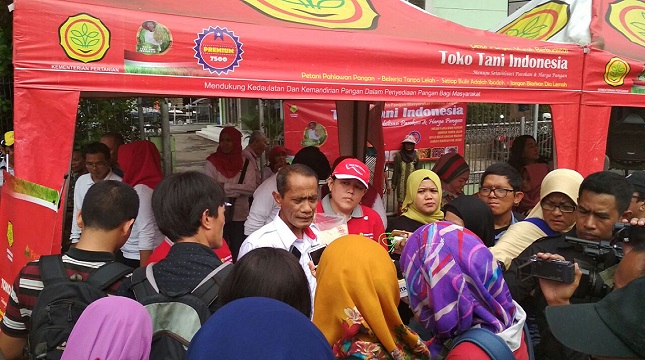 Kepala Badan Ketahanan Pangan (BKP) Kementerian Pertanian, Agung Hendriadi di Pasar Tani Indonesia
INDUSTRY.co.id - Jakarta - Which sold at the Indonesian Farmer's Store (TTI) is cheaper, but the quality is not cheap. So all I buy rice, onion with meat "said Sri Astuti, visitors TTI stand at the bazaar location of the Ministry of Agrarian and Spatial.
"I am very helpful with the food that is sold TTI," added Sri
Two weeks before Idul Fitri 1439 H, Indonesian Farmers' Shop (TTI) participates actively in cheap bazaars at some point in Jakarta. In addition to the Ministry of Agriculture and Kemenkumham, also in the Ministry of Agriculture and Spatial, Mapuspomad Apples Field and South Jakarta Mayor Field some time ago (30/5).
According to TTI Manager, Inti Pertiwi, the total location of the Ministry of Agriculture's Cheap Food Degrees is in 101 locations, consisting of 44 market locations in collaboration with DKI Government and Pasar Jaya, 37 locations in Jabodetabek which come from the request of government agencies and community groups, and 20 TTI Plus who appointed as the location of Cheap Food Degrees.
In a cheap food title, TTI provides basic staple food needs of the community with low-price quality during Ramadhan 1439 H.
According to the Head of the Food Security Agency of the Ministry of Agriculture, Agung Hendriadi, TTI is here to facilitate people to obtain food.
"We are present in various bazaar places through TTI, with the aim that people can buy quality food that is cheaper, compared to other market, because the product is still fresh directly from the farmers," said Agung.
According to Agung, the price in TTI is also cheaper, because the food distribution chain has been cut.
"The price at TTI is definitely cheaper, because the long food distribution chain we have cut, from gapoktan, to TTI and directly to consumers," added Agung.
Commodities sold by TTI among them are Rice at Rp 8,500, - / kg, Shallot Rp 25.000, - / kg
Garlic Rp 15.000 Per kg, Beef Rp 75.000 per kg, Chicken meat Rp 32.000 per kg.
In various locations TTI stand bazaar always crowded with visitors and get extraordinary antuasisme. In Puspomad for example, 500 kg of rice is sold out for less than an hour.
Head of POM-AD Rudi Yulianto appreciated TTI participating in providing cheap and quality food.
"The title of this Cheap Food is very helpful to the community, we hope TTI can come back to the next activity," he said.
The same thing also expressed South Jakarta Mayor Tri Kurniadi, who greatly felt the benefits of the presence of TTI in the bazaar event in the title at his office.
At this location the most popular commodity of visitors is the garlic dn garlic which sold out immediately when the new event in the open.