The Program is Populist, Olot Adat West Java Support Hasanuddin-Anton
By : Herry Barus And Aldo Bella Putra | Tuesday, June 05 2018 - 15:00 IWST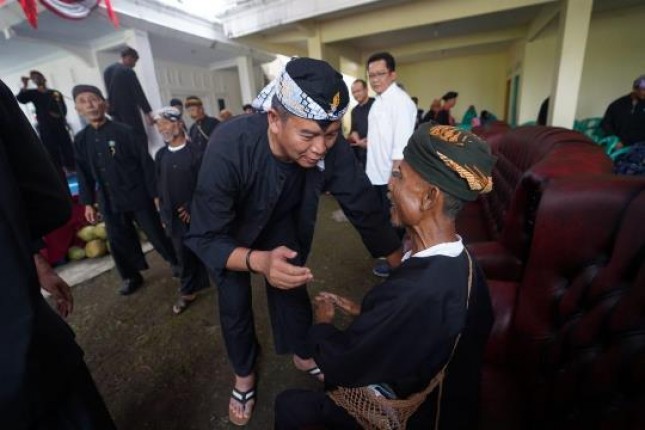 Cagub Jabar Kang Hasan (Foto Dok Industry.co.id)
INDUSTRY.co.id - Tasikmalaya - Barisan Olot Indigenous Peoples (BOMA) West Java has declared his attitude on the event of West Java Pilgub 2018, to support Hasanah ahead at the upcoming 27 Junj voting. Chief Executive of BOMA West Java, Jajang Hadiwiyono, said the statement was based on the belief of Olot Indigenous Peoples against the two figures of Retired General, to lead West Java.
The man who is familiarly called Jajang Sanaga added the assertiveness of Kang Hasan and Kang Anton as a figure who came from the military is also a strong reason for that support. According to him, Hasanah's leadership criteria are complementary and are believed to be able to bring about a better change for West Java.
"I have long known Kang Hasan's assertiveness, the most important concern for indigenous peoples and understand the culture and local wisdom of West Java itself," said Jajang after reading the declaration, in Citamiang Village, Tanjungsari Village, Salawu Sub-district, Tasikmalaya Regency, Monday 4/5/2018).
Hasanah's program, continued Jajang, is quite siding with the interests of the community, especially the indigenous people in West Java. Jajang believes, as a potential leader who understands art and culture, Hasan will give special attention to the sustainability of customs in West Java.
"The program is quite rational and acceptable, especially his partner Kang Anton also know and love Sundanese culture since becoming Chief of Police," he said.
Meanwhile, West Java Governor Candidate number 2 TB Hasanuddin or Kang Hasan conveys, indigenous peoples, arts and culture, has the potential to be lifted and developed into a tourist destination in the aspect of local wisdom of West Java. According to him, Sundanese art and culture is not only the pride of the people of West Java, but the identity of the nation that should continue to be introduced to the outside world.
"Local wisdom should we lift, so that the World knows that we have advantages and uniqueness that is not owned by others," said the Army Retired General.
Kang Hasan explained, indigenous peoples who still exist can also be made Desa Adat. This, he added, can bring tourists and able to grow the creative economy for the surrounding community. "The conditions are three, namely tourist destinations or tourist attractions, infrastructure we build, and of course security must be guaranteed," he said in front of 23 indigenous communities from 9 districts / cities such as Tasikmalaya, Sumedang, and other areas in West Java.
On the occasion, Kang Hasan also conveys his plan will involve all hotel services in West Java, to be willing to invite artists to display the arts of West Java. "At least twice a week, artists perform with their penca or drum in hotels and get paid, so the artist can live from it," he concluded.