BAZNAS Distributes Help for 1000 Orphans via Baitussalam Foundation
By : Nina Karlita And Aldo Bella Putra | Tuesday, June 05 2018 - 15:30 IWST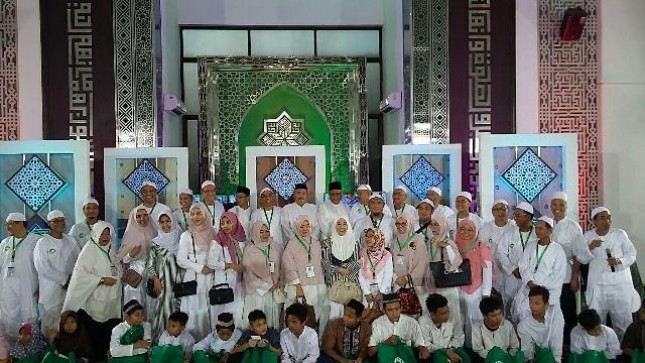 BAZNAS Salurkan Bantuan untuk 1000 Yatim via Yayasan Baitussalam (Foto Industry.co.id)
INDUSTRY.co.id - Tangerang - Badan Amil Zakat Nasional (BAZNAS) distributes aid to 1,000 orphans through the Baitussalam Foundation.
This coincides with the 8th anniversary of milad, an institution based in Baitussalam Mosque, The Green BSD City Housing, South Tangerang, Banten, Sunday (3/6/2018).
"This event is participated in the same event with Nuzulul Quran commemoration which is broadcast by TV One in the program of Peace of Indonesia," said Vice Chairman of BAZNAS, Dr. Zainulbahar Noor, SE, M.Ec, accompanied by Director of Distribution and Utilization of BAZNAS, Mohd. Nasir Tajang.
Appeared as a resource person, former Chairman of BAZNAS, Prof. Dr. KH. Didin Hafiduddin and the famous ulama, KH. Sumarno Syafei explores the history of descending Al-Quran. The event hosted TV One host, Agung Izzulhaq.
Mohd. Nasir Tajang, added that the compensation activity for orphans is a routine agenda every year conducted by Baitussalam Foundation.
"In 2016, the foundation is working with all members of Mushala BSD Mosque Forum (FMMB) together to support 2,500 orphans in South Tangerang. And in 2017, they make their own donation on behalf of the Baitussalam Mosque Foundation as many as 500 orphans and supported by BAZNAS who also sympathize 500 orphans, so the total compensation reached 1000 orphans, "he said.
For information, previously BAZNAS also collaborate with Baitussalam Foundation in realization of fattening beef cattle program.
This Rp 1.37 billion program is aimed at fattening beef cattle belonging to Mustahik marketed on Eid al-Adha Day. The results and benefits are used for the benefit of the ummah, such as compensation for yatin children.
Zakat Celebrities
Meanwhile, Saturday (2/6/2018) and then, BAZNAS held talkshow (talkshow) about zakat with celebrity berhijab.
Appeared as a guest speaker, Runner Up Miss Indonesia 2018, Raudha Kashmir, and Head of National Retail Collection Division of BAZNAS, Fitriansyah Agus Setiawan.
"Alhamdulillah, BAZNAS's breakthroughs make us aware of zakat, because with optimal service done by BAZNAS, we are getting easier to pay zakat," said Raudha who is still studying at Faculty of Medicine.
He appreciated the innovations made by BAZNAS, especially in the digital field.
"BAZNAS is like following the current era or present, not only zakat, now we can give through many applications such as Go Pay and so forth. Also there is a service of zakat robot named Zaki BAZNAS.If like this, millenial generation must be inspired to zakat through BAZNAS, "said the original Acehnese Raudha. This blood relation with Mecca's Veranda earth made his Islamic understanding and belief very viscous and profound.
Fitriansyah expressed his gratitude for the appreciation of Raudha and the celebrities of Miss Indonesia who are now choosing to hijab.
"Alhamdulillah, hopefully what is done by Raudha Kashmir and these cultured celebrities, can be an example for the children of the nation who have potential to become muzaki moved his heart to zealous zodiac to BAZNAS," he said.