KPK Segel Ruang Kerja Walikota Blitar
By : Herry Barus And Aldo Bella Putra | Thursday, June 07 2018 - 16:30 IWST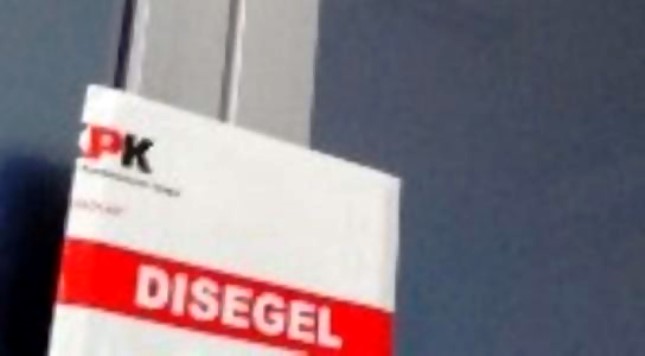 KPK menyegel ruang kerja TSK Korupsi (Foto Industry.co.id)
INDUSTRY.co.id - Blitar - The Corruption Eradication Commission (KPK) team sealed Blitar Samanhudi Anwar's mayor's office in Blitar City Hall, East Java, on Thursday (7/6/2018) allegedly related to the hand-catch operation (OTT) currently handled by the agency.
From the monitoring on the location, the KPK came at around 11:30 pm at Blitar City Hall. There were four investigators who arrived at the town hall. They were accompanied by the Head of the General Government of Blitar Ninuk Sisworini and went straight to the room.
After some time in the room, the KPK Investigator Team went straight out. However, they are seen not carrying any files from inside the room. KPK also immediately sealed the room.
Head of Public Administration of Blitar Ninuk Sisworini is reluctant to be asked for confirmation. He immediately left the site, after the investigation team left the place.
Meanwhile, Head of Education Office Blitar Muhammad Sidik who came to Mapolresta Blitar until now also has not come out. He previously arrived at around 06:30 pm by driving a car. But the vehicle is parked outside the mapolresta page.
When coming, Sidik wearing batik clothes typical of civil state apparatus (ASN). However, it is not known the purpose of the arrival of the head of the agency to Mapolresta Blitar, whether related news OTT allegedly also involve Blitar Mayor.
He also did not give any information to journalists who have been in front of Mapolresta Blitar since Wednesday (6/6) night. When he arrived, he went straight into the courtyard of the police station.
Previously, the KPK troupe had also been sent to Blitar Mayor's house on Thursday morning. Initially, it was known there were three vehicles that came out of mapolresta, then to the official house.
In the official house, two vehicles were seen coming inside, but one vehicle outside. Officials who allegedly KPK after out of the house, seen carrying a number of documents. They then go in and leave the location.
The atmosphere at Mapolresta Blitar at Jalan Panglima Sudirman, Blitar City, is still heavily guarded. Full-armed officers are still on guard at the entrance to the police headquarters. They also still do not allow unauthorized people to go inside.
The Corruption Eradication Commission (KPK) conducted hand-catch operation (OTT) on Wednesday (6/6) night in East Java. KPK secures five people in OTT in two areas of East Java namely, Blitar and Tulungagung.
According to KPK spokesman Febri Diansyah, the five people are still undergoing intensive examination by investigators. KPK has a time of 1x24 hours to determine their legal status.
"We will" update "and deliver it more fully within about 24 hours, because the determination of the status of the people who secured the time limit is 1x24 hours in accordance with the Criminal Procedure Code," said Febri.