Russia - Indonesia Strengthens Agricultural Cooperation
By : Wiyanto Dan Aldo Bella Putra | Saturday, June 09 2018 - 23:30 IWST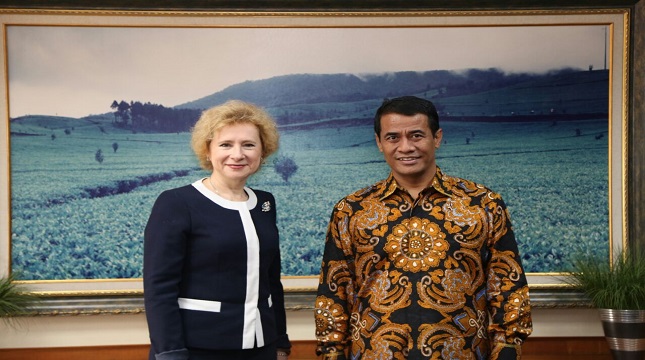 Mentan Amran Andi Sulaiman bersama Duta Besar Rusia L Yudmila G
INDUSTRY.co.id - Jakarta - Minister of Agriculture Andi Amran Sulaiman received a working visit of the Russian Ambassador to Indonesia, Mrs. L. Yudmila.G.Vorobiva, Friday (8/6/2018). The meeting discussed the cooperation between the two countries to advance the national agricultural industry and improve the welfare of farmers.
"We know we import grain from Russia, but we also export palm oil (palm), rubber, cocoa and some other agricultural products to Russia." Obviously Minister Amran.
According to Amran, the issue of oil palm is a serious concern, because so far the community of the European Union often campaigns black campaign (negative campaign). Russia as one of the partner countries in Europe is very optimistic with the agriculture of Indonesia and mutual need cooperation especially to do counter act against palm oil Indonesia.
"We ask Russia to counter a palm oil act from Indonesia, as they never did, and they agreed,"
Minister Amran hopes his approach should not only environment, but also community wealth (community welfare of the community of oil palm farmers). There are 30 million people who depend on palm, if done black campaign in European countries, can automatically CPO price (palm oil) down.
"And this will indirectly affect the environmental damage. The community can move to cut down the forest because the palm oil used to be sold down, "he said.
Amran further said the leaders of European countries already understand about this, among them after a meeting with the Minister of Agriculture of Germany, Spain, Denmark and now Russia.
"Amran expects communities around the forests and oil palm plantations to be the focus of European countries," he said, "these people are right people, oil palm growers and those living in the vicinity."
In addition to oil palm, Amran affirmed the form of cooperation with Russia that also encourages Indonesia to export fruit, including Mango, Salak, and others.
"We want fruit also to follow the success of corn, onion and chicken that has been exported we must defend and protect Indonesian farmers." Amran added.
Russian Ambassador to Indonesia Mrs. L. Yudmila G. Vorobiva conveyed his gratitude with a very productive meeting today. Russia and Indonesia are two countries with considerable farm output so it is very strategic to cooperate.
"Russia chooses Indonesia for palm oil and its offspring, as Indonesia is one of the countries that produce the most palm oil in the world," explained Yudmila.
Not only oil palm, he added, Russia also imports rubber, coffee, tea, cocoa and others from Indonesia. Russia opened up asking for Indonesian fruits to enter the Russian market.
"Of course according to the applicable security conditions in Russia," he said.