Three Important Factors For Still Superior Prabowo Above Jokowi in West Java
By : Herry Barus And Aldo Bella Putra | Thursday, June 14 2018 - 16:00 IWST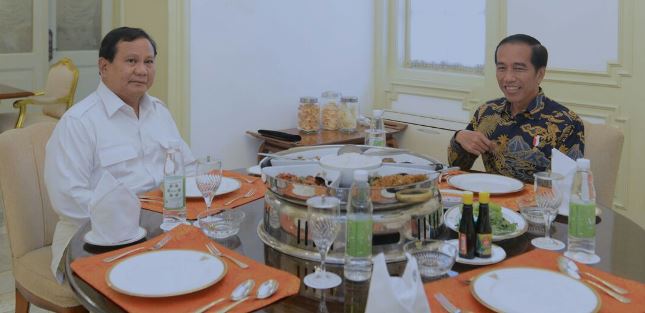 Presdien Jokowi dan Prabowo Subianto dalam sebuah kesempatan (Foto Setpres)
INDUSTRY.co.id - Jakarta - The West Java election is considered important because the province accounts for almost 20% of the national voters, and voters in West Java are considered to have an effect on the national vote in the 2019 general election.
Director of Survey & Polling Indonesia (SPIN) Igor Dirgantara detailing, there are at least three important factors because Prabowo still superior to Jokowi in West Java.
First, the factors of the character of Ahmad Heryawan (Aher), the Governor of 2 periods West Java whose name is become one of Prabowo strong vocal from PKS.
Aher is strongly associated with Prabowo's figure, because until now at the national political level, PKS is a line of "opposition parties" with Gerindra led by Prabowo.
The controversy over the president's appointment of a presidential shirt during the Candidate of West Java Governordebate also reinforced the perception.
Second, the political demontration effect of Anies Baswedan-Sandiaga Uno victory.
The couple, which was carried by Prabowo in the elections of DKI Jakarta 2017, strengthens and solidifies the choice of West Java people against this former Kopassus Danjen.
West Java is a very important area in the history of competition and political contestation in Indonesia and is known as the base of Islamic voters.
Moreover, the existence of some areas of West Java geographically adjacent to Jakarta significantly affects the political map in West Java.
"Third, infrastructure development conducted by President Jokowi is real, but the revolving issue of foreign workers in Cimahi, Banten, Bogor, Bekasi," said Igor.
In addition, the unkempt rapid railway projects Jakarta-Bandung and the polemic of development in Meikarta still leave the concerns of most people today in West Java.
Meanwhile, ahead of the 2019 Presidential Election Survey & Polling Indonesia (SPIN) released the survey results in West Java. The result turned out to be Prabowo Subianto still above Jokowi.
If there is a 'dejavu Pilpres 2014' in 2019 aka rematch head to head el classico between Prabowo vs. Jokowi, and then Prabowo Subianto is still leading the vote in West Java, "said Igor Dirgantara, Director of Survey & Polling Indonesia (SPIN) (13/6/2018).
Igor explained that Prabowo Subianto leads West Java with 45.3%, while Jokowi gets 40.9%, while those who do not know 13.8%.
When respondents were asked if the 2019 presidential election in the title today, then Prabowo got 37.1% of votes, Jokowi won 30.5% votes, Gatot Nurmantyo 4, 2% Agus Harimurti Yudhoyono 3.3%, Anies Baswedan 2.1% Hary Tanoesoedibjo 1, 9%, Amin Rais 1.1%, Rizal Ramli 07%, and the answer does not know of (19.1%).
"There is no shift in West Java Province. Pasundan land will remain a granular voice for Prabowo, while back again against incumbent President Jokowi in the 2019 Presidential Election, "said Jayabaya University Lecturer as reported by Pusatsiaranpers.
Igor added that Prabowo's victory over Jokowi also occurred during the 2014 presidential election, with a vote of 14,167,381 (59,78%) on Jokowi with 9,530,315 votes (40.22%).
"Jokowi only won over Prabowo in Subang Regency, Indramayu District, Cirebon Regency, and Cirebon City. In the rest of the other districts Prabowo is still ahead of Jokowi, "said Igor.