Public Trust Increases 47.5%, Bundling of BAZNAS exceeds Target
By : Nina Karlita And Aldo Bella Putra | Sunday, June 17 2018 - 12:35 IWST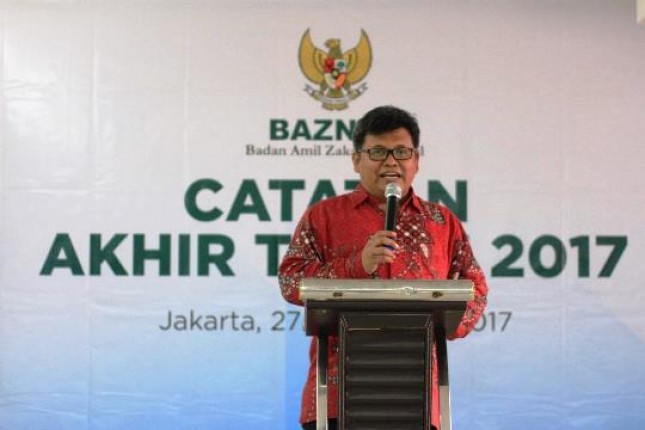 Deputi BAZNAS, Arifin Purwakananta (Foto Nina)
INDUSTRY.co.id - Jakarta - As improvements in various sectors, increased service and zakat awareness campaigns in Ramadhan 2018, made public confidence in BAZNAS, up sharply by 47.5%.
The high public trust encourages the increase of zakat collection during the Holy Month, through the Rp 60 billion mark. Fundraising achievement, exceeding the target set at Rp 54 billion, and rose 47.5% from the collection of Ramadan 2017, worth Rp 40 billion.
Deputy BAZNAS M. Arifin Purwakananta in a press release in Jakarta, Saturday (16/06/2018), states, zakat collection of Rp 60 billion is still temporary. Because, he said, the new offline account can be accessed after the relevant bank operations open on weekdays in the coming week.
"Alhamdulillah gathering during Ramadan until the night before Idul Fitri could reach 60 billion rupiah," said Arifin.
He thanked the people for their trust in BAZNAS in their tithe. As well as the role of media crews who have helped publicize the various innovations of zakat services and the realization of mustahic empowerment programs.
Arifin explained that BAZNAS's zakat receipt consists of 20 percent of the Zoological Collection Unit (UPZ) BAZNAS, which comes from state civil servants (ASN) in a number of ministries, state institutions, TNI, Polri, and others.
"While about 80 percent obtained from the general public through various modes of payment," said Arifin.
In Ramadan last, he continued, BAZNAS aggressively facilitate the ease of service tithe through cooperation with many digital shopping providers.
Arifin reported, the acquisition of zakat in the regional BAZNAS, zakat amil institutions (LAZ) throughout Indonesia also grow together well to reach the target of national Ramadan gathering Rp 3 trillion.
"The average increase in national collection is 20 percent annually," he said.
Strengthen Distribution Performance
Arifin further explained, BAZNAS ensure zakat Indonesian people will be channeled to mustahik who are entitled in accordance with the guidance of sharia and applicable legislation.
He cited the rapid response, dispatch and volunteer activities of BAZNAS Disaster Response (BTB) handling earthquake victims in Sumenep, Madura, East Java which lasted until Saturday (16/6/2018) and the following days.
"BAZNAS lowered the team to join Tagana and TNI to clean up the debris of people's houses, prepare emergency needs and so on," said Arifin.
He stressed that the strengthening of distribution and utilization activities is continuously optimized by the program institutions that have been established and approved their budget plans by working better and maximally.
"This becomes a boost of the mustahic empowerment activity.
We will increasingly publish information and news related to the distribution activities to the public. In order for them to know that the zakat, infaq and alms donated to the BAZNAS are channeled according to sharia, legislation and effectively change the fate of Asnaf for the better, "he said.
According to Arifin, this is to compensate for the invocation of information and zakat services that are very intense in the past Ramadan.
"This is a form of our accountability report to the public because they will immediately ask where Zakat BAZNAS money is distributed.A post-Idul Fitri, we strengthen the distribution and utilization performance to optimize the empowerment of mustahik and poverty alleviation in this country," said Arifin.v