Approaching Reverse Flow, ESDM Ministry Ensures Safe Fuel Stocks
By : Hariyanto And Aldo Bella Putra | Wednesday, June 20 2018 - 21:00 IWST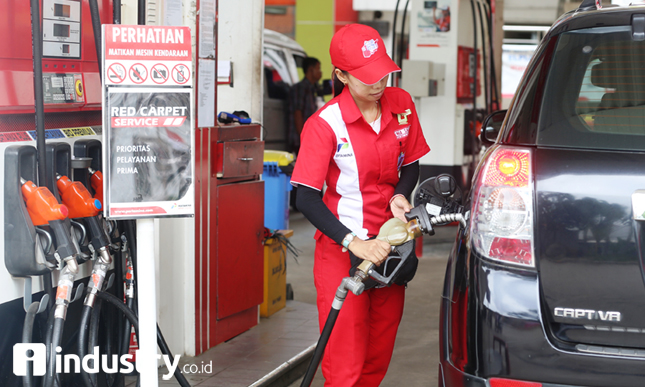 BBM, SPBU (Foto/Rizki Meirino)
INDUSTRY.co.id - Jakarta - Ahead of the peak of the expected backflow falls on Wednesday (20/06/2018), the Ministry of Energy and Mineral Resources ensures the stock of fuel oil (BBM) for travelers who will return to Jakarta and other cities in a safe condition.
Based on the report of National Coordinating Post of ESDM Sector, the condition of BBM stock on Monday (18/6/2018) is safe for up to three weeks ahead, with Premium fuel resistance type: 22 days; Solar / Akrasol: 21 days; Pertalite: 21 days; Kerosene: 48 days; Pertamax / Acra 92: 20 days; Pertamax Turbo: 42 days; Pertamina Dex: 46 days; Dexlite: 20 days; Avtur: 28 days and LPG: 18 days.
LPG stocks are in safe condition with 370,480 Metric Ton (MT) of stock and realization of distribution of 11,465 MT. Fuel Gas (BBG) and gas network (jargas) are also channeled without any constraints. In general, the process of channeling fuel, LPG and Natural Gas is running normally.
"The postal team also conducted direct checks to several locations, besides field checks, to anticipate demand surge ahead of backflow, 110 tankers were prepared, 33 dispenser cars, 57 kiosk pertamax, 1 foyer pertamax, 283 packaging motorcycles and 2 kiosk packaging AKR All of this is part of the effort to launch the travelers who will return after the Lebaran holiday, "said Head of Communications, Public Information Services and Cooperation Bureau, Ministry of ESDM, Agung Pribadi in Jakarta (18/06/2018).
On the ketenagalistirikan sector, based on the report dated June 18, 2018 which is the data of June 17, 2018, the overall nighttime peak period is under normal conditions. Overall, the national supply capacity is 30,302.13 MW and the peak load is 25,211,23 MW so the national reserve capacity is 5.028 MW.