IPW Ask Independent Police for the 2018 Regional Head Elections
By : Herry Barus And Aldo Bella Putra | Sunday, June 24 2018 - 21:30 IWST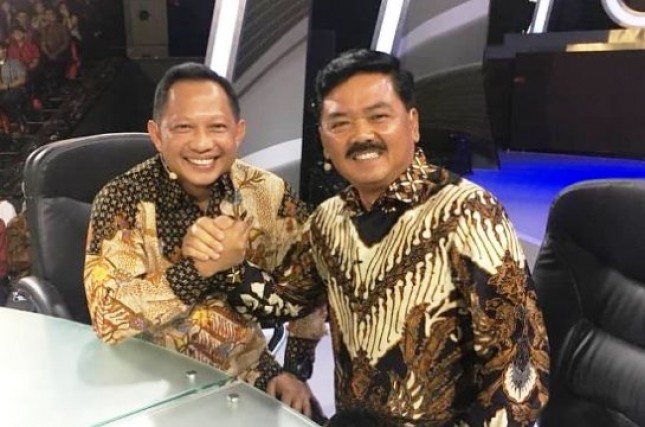 Panglima TNI Hadi Tjahjanto dan Kapolri Tito Karnavian (Foto Dok Industry.co.id)
INDUSTRY.co.id - Jakarta - Indonesia Police Watch (IPW) has asked the Indonesian National Police (Polri) to be independent in the 2018 election because several days before the election the police officers' non-neutrality reports continue to appear.
"Police Chief General Tito Karnavian seems to need to reaffirm the attitude of the independent police in the 2018 election," said Chairman of the IPW Presidium Neta S. Pane through his written statement in Jakarta, Sunday (24/06/2018).
According to him, although there are police officers who were removed from office due to campaigning for certain candidate pairs, the action of non-impartiality of the police still happen.
IPW noted on June 22, 2018 north Tapanuli residents held a demonstration to the DPRD and to the Polres. The mob demanded that the Police Chief immediately resign because it was considered inconsistent and unable to maintain the neutrality of the police in the 2018 regional election. Moreover, there are unscrupulous members of the House of Representatives affecting the non-neutrality.
Due to the impartiality of the police, he said, North Tapanuli residents are worried about conflicts in the region because people hope Pilkada 2018 can run smoothly and safely without partiality policemen on certain candidate pairs.
"Citizens just hope that the police are qualified to maintain democratization in the area," said Neta. "The National Police Headquarters through Satgas Nusantara need to get down to North Tapanuli so that there is no conflict in the area."
Not only in North Tapanuli, he continued, in the Riau Islands (Kepri) also arose a problem, namely the meeting of Wakapolda Kepri Brigjen Pol. Yan Fitri with the Chairman of DPD PDIP and successful team of certain candidate pair in Tanjungpinang.
"Bringing up speculation about the impartiality of the police in the 2018 election. For that reason, Wakapolda needs to explain the meeting transparently so that regional elections run safely without conflict," he said.
He said the issue of non-neutrality of the police was not the first because in the 2009 Presidential Election the police's unfairness had flared up.
A number of T-shirts of ruling political parties were found in a number of polsek and polres. IPW hopes this case will not happen again, let alone Police Headquarters have formed Satgas Nusantara to keep elections 2018 is safe, peaceful, and smooth.
"However, there are still many unscrupulous police officers who play and are not neutral, causing the threat of conflict in elections 2018," said Neta.
In order to curb the actions of these individuals and to create peaceful 2018 elections, he said, the National Police chief needed to re-emphasize the neutrality of the police force and promptly crack down on police officers in favor of certain candidate pairs.