Bantul Expands 50 Hectares of Red Onion
By : Anisa Triyuli And Aldo Bella Putra | Wednesday, June 27 2018 - 20:00 IWST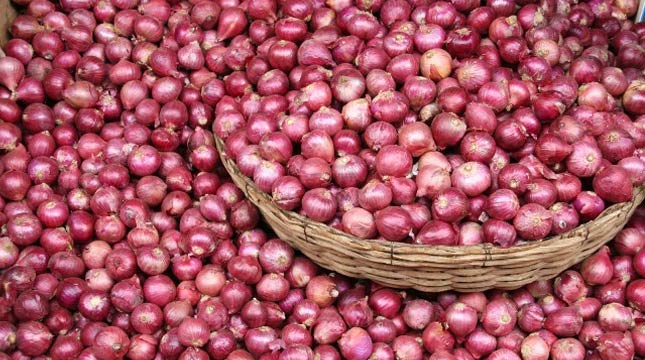 Bawang Merah (Ist)
INDUSTRY.co.id - Bantul - Agriculture, Food, Maritime and Fishery Service of Bantul Regency, Special Region of Yogyakarta, will expand onion land in the highlands of Imogiri Selopamioro Village area of ​​50 hectares.
"Usually the onion is planted in the lowlands or rice fields, but we planted in the hills, so this is something good, so there is PR (homework) for the development of 50 hectares again," said Head of Department of Agriculture, Food, Marine and Fisheries Bantul Pulung Haryadi in Bantul, Tuesday (6/26/2018).
According to him, onion crop has been cultivated in the area of ​​Nawungan Village Imopiri Selopamioro about 105 hectares, even some of the commodity crops are developed in organic farming.
He said based on onion harvest in June 2018, the productivity of organic onion in the highlands of Selopamioro reached 12 tons per hectare with better onion quality than chemically.
"So in the future we continue because it has been proven the result, only the weakness of the price has not been distinguished by the nonorganic onion, should be more expensive, but right now the price is still the same as the existing chemistry," he said.
Even so, he said, the application of organic farming for onion plants with optimization of manure results remain profitable, because the harvest can be directly absorbed in the market through traders or collectors.
"So we expand again, and from the head of the onion farmer group in Nawungan will increase the onion land in the Cerme area then under Selopamioro, it will be our new land," he said.
Pulung said in order to support the development of the onion land expansion in the highlands, will be built deep wells or embungs that serve to store rain water for the purposes of irrigation horticulture commodities.
"If you start here from the first embung or deep well if possible, if you do not make the embung as much as possible then the water source that will be the key of the fertile land," he said. (Ant)