PT Gudang Garam Shares Dividend Rp2.600 / Stock Sheet
By : Herry Barus And Aldo Bella Putra | Wednesday, June 27 2018 - 21:00 IWST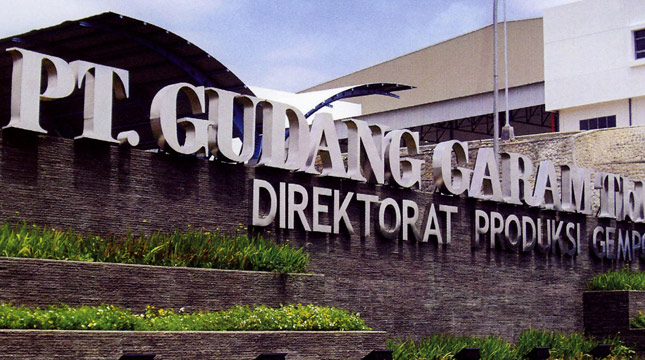 PT. Gudang Garam Tbk (Ist)
INDUSTRY.co.id - Kediri - PT Gudang Garam, Tbk, Kediri, East Java, distributed cash dividend of book year 2017 about Rp 5 trillion, or Rp2,600 per share.
The amount of the dividend was revealed in a press conference after the General Meeting of Shareholders (AGM) of PT Gudang Garam, Tbk in Kediri, Tuesday (26/6/2018)
"If you judge the same (last year), the explanation is the same as the previous one.If the shares of other companies, this salt storehouse, I have no right to answer," said PT Gudang Garam Board of Directors Heru Budiman about the dividend value that tends to be equal to the previous year.
In the GMS for fiscal year 2016, the dividends distributed are Rp5,002,628,800,000, with a dividend received by shareholders valued at Rp2,600 per share. Nominal is equal to dividend 2017.
Heru said, the board remained grateful that the dividends distributed could be Rp2.600 per share, because previously only in the number Rp800. It dismisses the amount of dividends that tend to be stagnant because the cigarette industry is currently sluggish.
"The market is different, there is a positive, negative, so for ourselves as a company, we know the performance will be assessed by shareholders." Assessment likes what, hard to guess," he said.
Meanwhile, other Directors, Istata Taswin Siddharta added that the company is not affected by the stock price movement of the cigarette industry. So far, the market is not necessarily, depending on the situation that affects it.
"Fundamentally, we do not see a significant (factor) affecting (stock prices) rising or falling. The market sometimes reacts differently with the fundamentals, if the fundamentals are positive, the market reacts negatively and vice versa," Istata told media crews.
The press conference was attended by four directors, namely Slamet Budiono, Heru Budiman, Istata Taswin Siddharta, and Heri Susianto.
The GMS receives both the directors' report on the business of the company during the financial year ended 31 December 2017.
In addition, approving and approving the Company's balance sheet and profit and loss statement to know the 31 December 2017 audited by Tohana Widjaja from Public Accounting Firm Siddharta Widjaja and Partners.
There is also a decision on the distribution of dividends and reappoint the public accountant firm Siddharta Widjaja and Rekan as the auditor of the company for the fiscal year 2018 or its successor appointed by the board of commissioners.
In the General Meeting of Shareholders there is no decision on changes in the composition of the board of directors.