Jamkrindo Healthy Walks with Bangka Belitung Community
By : Wiyanto And Aldo Bella Putra | Saturday, August 12 2017 - 15:05 IWST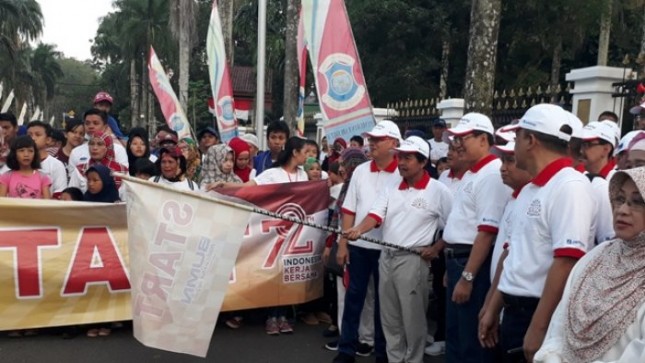 5122
INDUSTRY.co.id - Bangka Belitung-Perum Jamkrindo held a healthy road with three thousand participants in Pangkal Pinang, Bangka Belitung. Healthy street participants involve cross-age of young and old. Even invites children to enliven the healthy path.
The activities of the State-Owned Enterprises program are to carry out 34 healthy road activities in 34 provinces in Indonesia to enliven the 72nd Independence Day of the Republic of Indonesia with the community. On this occasion attended Abdul Fatah Vice Governor of Bangka Belitung Islands. Chairiah Asdep Restructuring SOEs and Utilizing Portfolio of Minority Ownership State Ministry of SOEs. Heru Riza Chakim Commercial Director I PT. Sucofindo. Officials within the Provincial Government of Bangka Belitung.State of BUMN / BUMD in Bangka Belitung Province and Official Perum Jamkrindo inBangka Belitung Province.
Director of Finance, Investment and Risk Management I. Rusdonobanu explained, a series of Present SOE program for the country, initiated by the Ministry of SOEs that have been running for three years continuously since 2015. Present for the State SOE SOE is a commitment to improve the welfare and foster pride Indonesian citizens.
"Perum Jamkrindo which is the only state-owned enterprises in the industrial sector guarantee, which has been aged 47 years (1 July-1970-1 July 2017) on the activities of state-owned enterprises this year Present State Utuk Perum Jamkrindo gets mandate as PIC in Bangka Belitung together with Sucofindo ," He said in Bangka Belitung, Saturday (08/11/2017).
He said the activities of Jalan Sehat will be followed by 3000 participants from both public and BUMN / BUMD and government agencies that will start at 06.00 am at Pangkalpinang Park Square in Bangka Belitung Province with Routes that pass within 5 KM. In addition to a healthy road, the event BUMN Present To The Country In Bangka Belitung Province also features a variety of people's entertainment. Healthy road this time competes for Grand Prize 1 unit Motorcycle two wheels and hundreds of other entertainment gifts. In addition to healthy road activities,
He continued, Perum Jamkrindo also participated in the activities of BUMNs present for other countries that have become mandatory mandatory of the series of Independence Anniversary of Indonesia to 72 year 2017 namely Students Mengenal Nusantara (SMN), Veteran House Surgery, and Ceremony 17 Augustusan.
At the age of 47, he said, Perum Jamkrindo continues to grow into a locomotive guarantee industry in Indonesia. Based on Perum Jamkrindo's consolidated financial statements, it has assets of Rp14.147 trillion and Equity of Rp10.626 trillion per June 2017. Perum Jamkrindo's product besides guaranteeing credit, especially Government Business Credit (KUR) program, we are also granted as a Guarantee Institution of Rishi System Warehouse.
According to him, this time Perum Jamkrindo has 9 regional offices, 56 branches and 14 offices Service Unit (CTP) that is spread across the provincial capital and district throughout Indonesia. As one of the SOEs Company, we hope that the SOEs Present Program for the State can be implemented every year as a form of BUMN's role in giving the best contribution for the country and people of Indonesia. Besides that in every action BUMN also helped build prosperity of economic growth of small society and surrounding environment through Partnership Program and Community Development Program.