General Chairman Gerindra Prabowo Subianto Has Ticket Candidate Vice President 2019
By : Herry Barus And Aldo Bella Putra | Tuesday, July 17 2018 - 18:00 IWST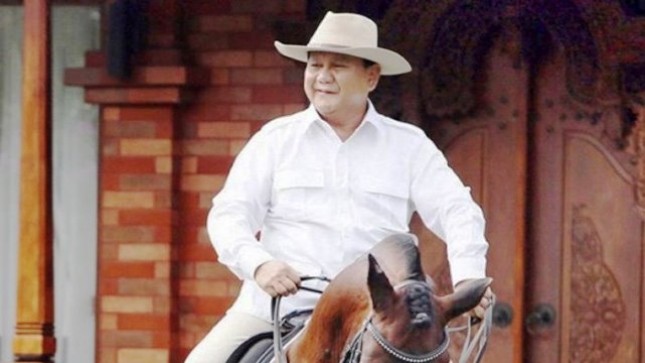 Ketum Gerindra Prabowo Subianto (Foto Dok Industry.co.id)
INDUSTRY.co.id - Jakarta - Gerindra Party called the general chairman, Prabowo Subianto, has obtained "tickets" to be RI presidential candidates from all coalition parties.
The assurance was obtained from the meeting of the President of the Prosperous Justice Party (PKS) Sohibul Iman, Chairman of the National Mandate Party (PAN) Zulkifli Hasan and Chairman of the Honorary Board of PAN Amien Rais with the Chairman of Gerindra Probowo Party at Prabowo's residence at Jalan Kertanegara, Jakarta, Saturday 14/7).
"The meeting gave Prabowo a presidential ticket," said Spokesman of Gerindra Anggawira Party Victory Team in Jakarta, Tuesday (7/17/2018).
Anggawira said at the meeting Gerindra, PAN and PKS pursed the pace for coalition and invited other parties to join.
As for the vice presidential candidate (vice president) who will accompany Prabowo will be discussed at the next meeting including the cabinet draft which is certainly focused in economic revamping.
"Regarding the vice president will be discussed and matured at the next meeting, certainly paying attention to the aspirations of the three parties in the coalition," said Anggawira.
Anggawira as reported by Antra optimistic Prabowo will get the mandate of the people to lead Indonesia in the coming period.
He mentioned the latest survey conducted by Lingk Sureki Indonesia (LSI) Jokowi electability below 50 percent. While the campaign with hastag # 2019 gantipresiden increasingly preferred as much as 60.5 percent.
He said, based on the LSI survey also known that loyal Jokowi voters only 32 percent. While the loyal voters who will choose other than Jokowi has reached 30.5 percent.
"We are optimistic that Prabowo gets the mandate of the people to bring Indonesia prosperous." Nothing is impossible in this life, always open opportunities for new leadership, "said Anggawira.
Meanwhile, on Wednesday (18/7/2018), Prabowo is scheduled to meet with Chairman of the Democratic Party Susilo Bambang Yudhoyono at the residence of SBY in the area of ​​Mega Kuningan, Jakarta.
Anggawira said the meeting was a summit, after the previous Democrat Vice Chairman Syarief Hasan visited the residence of Prabowo Subianto.
Anggawira said the three coalition parties, Gerindra, PKS and PAN are preparing the best scenario for the Democrats to join the coalition.