Sidak in Quarantine Surabaya, Minister of Check Check Ease of Licensing and Employee Discipline
By : Wiyanto Dan Aldo Bella Putra | Tuesday, July 17 2018 - 20:00 IWST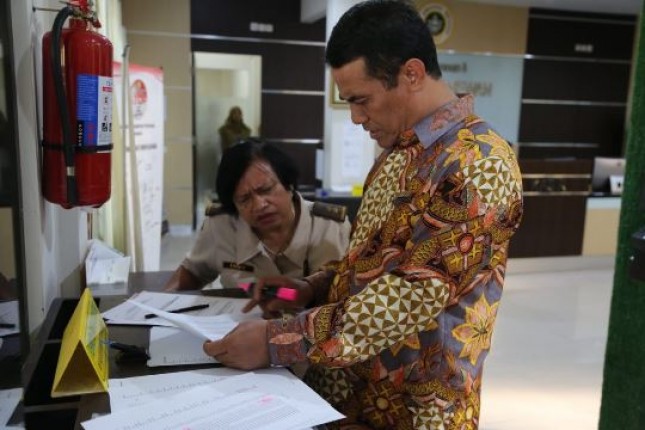 Mentan Andi Amran Sulaiman (Dok Industry.co.id)
INDUSTRY.co.id - Surabaya - Minister of Agriculture Andi Amran Sulaiman did this Monday (16/7/2018) at the Central Agriculture Quarantine (BBKP) Surabaya, in Juanda, Surabaya, East Java - located approximately 5 km from Juanda Airport. Mentan went straight into the back of the office, and met two employees who were busy chatting while coffee during work hours.
"What is this? The head of the Hall to where?" Amran asked firmly. "No sir, sick," said one of the quarantine employees.
Later in the same place Amran checks the waiting room for the people who are taking care of the administration of agricultural quarantine, and had a discussion with one of them to dig up information on whether or not there is illegal practice. Amran continued to check the room thoroughly, several safes were opened one at a time and ensuring no extortion in the office.
In the inspection of the Minister of Agriculture also briefly stopped in the lobby, then went into some staff workspace, and pointed at a corner of the room that seemed to have been long not cleaned and not treated. "Try to shift, see how long this floor and wall is not cleaned. Where is the cleaning service staff? Who is responsible for this matter?" Asked the Minister of Agriculture.
Minister of Agriculture continued his second inspection to the Animal Quarantine Service Unit and the Plant Quarantine Service Unit of BBKP at the Port of Tanjung Perak Kalimas. At the location of the Minister of Agriculture asked for staff absences and checking one by one employee who always comes late. "Who came late I was suspended one week yes, where is it? You rest a week and my allowance also stops one week yes ..." said Minister of Agriculture.
Amran here again asks one by one people who are queuing up the turn of licensing about quarantine. "How long does it take for long?" Usually, how long does it take (officers) to ask for money? "Asked Amran. "Wait a minute, at least 20 minutes, but it depends on how many files, no money asked, all transfers and online," said one who was in line.
In the era of Amran Minister, a system of licensing and document processing has been developed online. All administrative fees charged by the transaction by transfer to the bank. This is to eliminate illegal levies (pungli) practices in the field. As a result, the maintenance becomes more effective and efficient both in terms of time, cost, and energy. In addition, such a thing also contributes to the award as the Ministry of Anti-Gratification to the Ministry of Agriculture of the KPK.
"This is a system that dismisses or suspends you, not me. Minister of Agriculture already get predicate WTP, we must keep the discipline and excellent service to the public" said Minister of Agriculture.
In three locations, BBKP Office and 2 BBKP Service Unit, the Minister of Agriculture suspended four employees and discharged an echelon IV official. Minister of Agriculture said that the Government, in particular the Ministry of Agriculture, continues to improve services to the public including the Quarantine Center.
"We (sidak) here in order to improve the discipline of employees, which we are grateful, extortion no. We used to find our direct levy dislodged even we fired. Alhamdulillah today no (pungli), but need discipline. Today we sidak, They did not know it, and we checked out one by one, we scored straight away, we wanted to do a good job, today is good, but we want to do better ", he explained to the media crew.
Since the last three years Agriculture Minister Andi Amran Sulaiman led Minister of Agriculture, not only complete the food program such as rice, corn, chili, onion, garlic, beef, chicken meat and others, but also make mental reform of Agricultural Human Resources, and control of the apparatus.
Until now, Minister of Agriculture has done demonization and mutation of 1,300 Minister of Agriculture employees, including 200 employees of Agricultural Quarantine Agency. "It means improving employee discipline, and improving services to the public. We do not find illegal levies, but the discipline of employees that need to be improved, maintenance of work space and cleanliness that still needs to be repaired again ", close the Minister of Agriculture.