Legowo 3: 1 Pineapple in New Tomato Peat Land
By : Wiyanto Dan Aldo Bella Putra | Monday, July 30 2018 - 17:00 IWST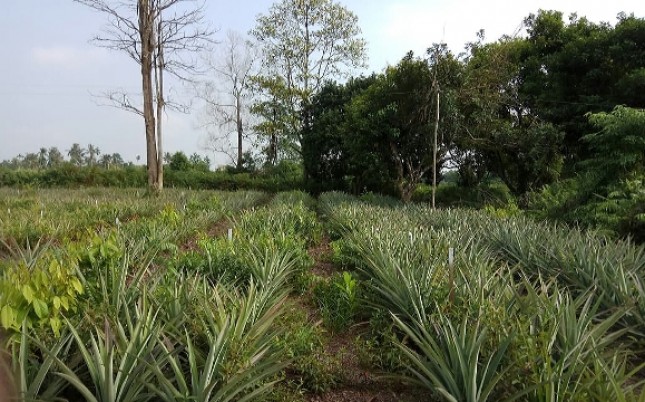 Kebun Nanas (FotoDok Industry.co.id)
INDUSTRY.co.id - Muaro Jambi - The specialty of pineapple besides sweetness is its adaptability in peatlands. Improved cultivation techniques and appropriate marketing will improve the quality and selling value.
One of the improvement of cultivation technology applied by researcher from BPTP Jambi through the activity of Pineapple Bioindustry is plant spacing arrangement to increase productivity, that is 'Legowo 3: 1' (distance between lines 80 cm and there are 3 plants in each line).
This activity is located in pineapple center of Jambi Province, that is Tangkit Baru Village, Sungai Gelam Subdistrict, Muaro Jambi Regency which is peat land, recently in Jambi.
The activities of Pineapple-Bioindustry started in 2015. Some of the cultivation technology applied through the demplot area of ​​0.25 ha is the spacing arrangement of legowo 3: 1, the fertilization and pruning of the side shoots. The adoption of cultivation technology by farmers is quite good, as seen from the planting of pineapple on new land has followed the recommended planting distance.
Scaling up or development of planting land by farmers has been reached of 0.25 ha, 5 ha and 2 ha of 3 farmers who have adopted the technology.
The concept of Bioindustry of Pineapple-Cow applied is the processing of waste in the form of pineapple skin as cattle feed and cow processing waste into compost and bio urine as fertilizer for pineapple plant.
In general, the concept of bioindustry can be accepted by the community, but intensive assistance is still needed so that the implementation is more optimal.
Improving the marketing network of pineapple processed products is absolutely necessary for the chain of bioindustry can continue to run. Good marketing of pineapple products increases the motivation of farmers to continue to run the Pineapple Bioindustry chain.