Support eSports Competition at 2018 Asian Games, Konami Presents PES2018
By : Hariyanto And Aldi Firhand. A | Friday, August 24 2018 - 20:07 IWST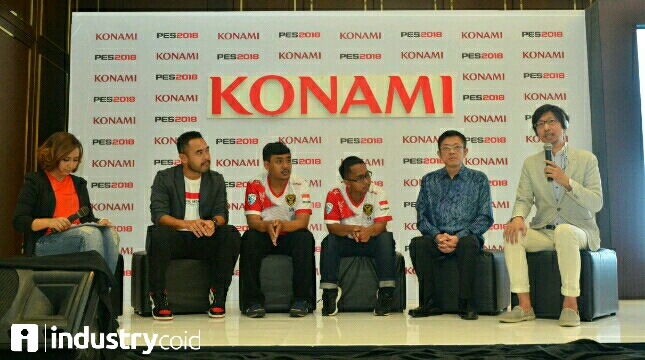 Konami
INDUSTRY.co.id - Jakarta - Game developers and makers, Konami also supported the success of organizing the biggest sports party at the 2018 Asian Asian Games held in Jakarta and Palembang from 18 August 2018 to 2 September 2018.
This time the Asian Games added eSports as one of the first demonstration matches which was also included as a category in the international sports party. In the eSports category there are six games that will be competed and one of them is Pro Evolution Soccer (PES).
Deputy Division Director of Promotion Planning Division, Konami Digital Entertainment Co., Ltd., Takayuki Kurumada said, PES2018 was the only sports game chosen to be a demonstration match at the 2018 Asian Games.
"I think PES2018 was chosen because this game is quite friendly with those who rarely even play games. Plus PES also has a lot of similarities with football," said Takayuki Kurumada in a media discussion held by Konami, in Jakarta, Friday (8/24 / 2018)
Besides Takayuki Kurumada, the event that discussed the presence of eSport at the 2018 Asian Games also presented Eddy Lim as Chairperson of Indonesia eSports Association, Indonesian representatives in the PES competition at the 2018 Asian Games namely Setia Widianto and Elga Cahya Putra and Ponaryo Astaman as former football national team captains Indonesia.
The eSports competition at the 2018 Asian Games will be held from August 26, 2018 and for the PES match itself will be held on September 1, 2018. The eSports industry is now developing and the number of fans continues to grow every day around the world.
"I'm sure many of you are getting to know eSports because of the Asian Games. Therefore, we as one of the companies offering games to compete in collaboration with the organizing team to make this competition rich in content. We also continue to support the recognition of the PES game series through its players and also through competitions, "Kurumada added.
eSports is now increasingly recognized as part of the sport and the players can also be called athletes because eSports is now part of the 2018 Asian Games.
"There are various ways to enjoy eSports besides being a player, you can also enjoy eSports by watching matches both directly and via broadcast or video. This can be an opportunity to spread excitement from eSports to those who have never tried to play, "Kurumada added.
Meanwhile, Chairman of the Indonesian eSports Association Eddy Lim said, in the eSports industry, to be a great eSports player requires hard work, smart thinking and strong determination. "The important thing is that if you want to play physically, you must be strong and prime," said Eddy Lim.
Setia Widianto and Elga Cahya Putra said that they were now proud to represent Indonesia and were training hard to face the 2018 Asian Games.
"It is a pride for me and the community to be able to appear as athletes in the Asian Games, because now playing games is no longer just a hobby, but it has become a proud profession, can achieve achievements and even make the name of the Indonesian Nation," said Setia Widianto.
"We will begin intensive training starting on August 25 tomorrow. We hope that football lovers and PES games in particular can support us 'PES national team' who will compete against other Asian countries on September 1, "continued Elga Cahya Putra.
In addition to the 2018 Asian Games, Konami also collaborates with communities from various parts of the world. Since 2001, Konami has held eSports competitions in Europe. Currently Konami has the 'Pes League' tournament which is Konami's official worldwide PES tournament.
The PES game series is a video game product from Konami that has been enjoyed for more than 20 years since 1995 as a game console. The total number of copies sold throughout the world reaches more than 100 million copies, because this game also has high image quality and expression and also ease of operation.
On August 30, 2018, Konami will release the latest series of PES namely PES 2019 which can be played through computers, PlayStation 4, and also Xbox One.