Luna Hand Over Smartphone to Pencak Silat Athletes Winning Gold Medal in Asian Games 2018
By : Hariyanto And Aldo Bella Putra | Monday, September 10 2018 - 18:30 IWST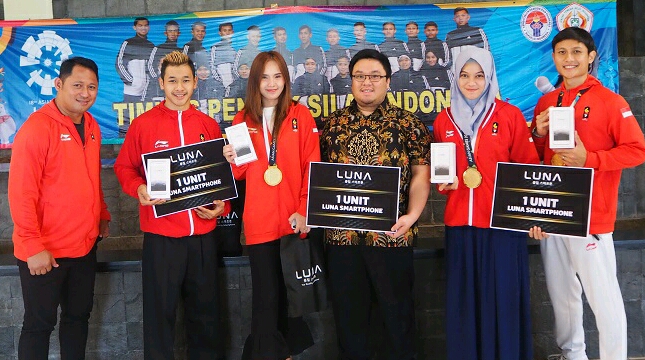 Luna Serahkan Smartphone Kepada Atlet Pencak Silat Peraih Medali Emas Asian Game 2018
INDUSTRY.co.id - Jakarta - The achievement of the 2018 Asian Games athletes won an appreciation from various parties, one of them from the Korean and Smartphone, Luna Smartphone.
The appreciation given by Luna smartphone to the Indonesian athletes who won the gold media by providing tough V series smartphones to athletes in the sports of Pencak Silat.
Some athletes who won gold medals at the Asian Games 2018 event were present at the presentation of the powerful Smartphine from Luna in Padepokan Pencak Silat, Taman Mini Indonesia Indah, Jakarta.
Haffiyan, a viral pencak silat athlete because he embraced Jokowi and Prabowo after winning the gold medal was also present in the delivery of sophisticated smartphones from Luna.
"Thanks to Luna smartphone for its appreciation. If yesterday I embraced Mr. Jokowi and Mr. Prabowo, I would 'hug' this smartphone to treat my activities, "joked Haffiyan.
Other athletes present at Luna's advanced smartphone delivery were Sugianto, Wewey Wita, Sarah Tria Monita, etc.
Suryadi Wiillim, Manager of Marcomm Luna Indonesia, delivered the tough smartphone as a manifestation of Luna's appreciation of the national athletes who have made the nation's name proud.
"The day of the event, we promised to give tough smartphones for gold medal athletes in the Asian Games. We realize it to keep that promise. We hope that this appreciation should not be seen from the nominal and type of goods, but this is a manifestation of our appreciation and joy towards the 2018 Asian game fighters, "said Suryadi Willim.
This smartphone relies on stylish luxury designs, high-end specifications, and premium quality. Luna has a V that has a slim and unibody design. Luna smartphone specifications include having 64 GB Internal Memory, a 13 MP + 8 MP camera with various features, 4G LTE connections and NFC.
This smartphone is made famous, Foxconn is trusted by Apple to produce iPhones. Luna smartphones with the same quality standards as the iPhone. Starting from material selection, finishing process, to quality control. So that this smartphone is practically identical to the Android version of the iPhone 6.
This phone is designed with high level of accuracy in accordance with Foxconn standards which is known as world class smartphone. The casing material is made of aluminum which covers the entire body with a soft curve. The body design process is made using metal with 8 CNC processes so the results are really precise.
"The process of making the body uses metal with 8 CNC processes so the results are really precise. This process is used in the manufacturing sector which involves the use of computers to control machine tools (computer numeric control) which includes internal structure & processing, the antenna structure processing, screen structure processing, 3D side hoe machining, 360 drilling Qieja, structure end milling, and overall polishing process. Everything is done with high level accuracy using the latest technology. "Even under Fortuner, the smartphone is still strong," said Suryadi.
The smartphone, continued Suryadi is very suitable for athletes who have toughness when competing. "Both are both tough and resilient," said Suryadi.