Facing the Asian Games, the Company Relocates 4,000 Hygiene Officers
By : Ahmad Fadli Dan Aldi Firhand | Friday, March 16 2018 - 22:30 IWST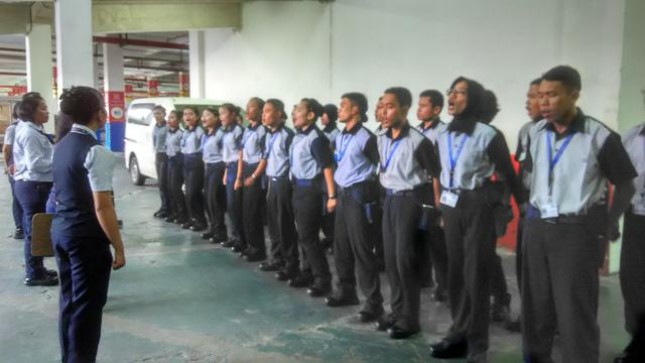 PT ISS Indonesia, penyedia layanan fasilitas terintegrasi (integrated facility services), telah menyiapkan 1.000 personel untuk mengelola kebersihan dan Kenyamanan di Kompleks Gelora Bung Karno (GBK) saat ajang Asian Games 2018.
INDUSTRY.co.id - Jakarta - Indonesia will host the 2018 Asian Games title on August 18, 2018 - September 2, 2018 to come. There are two cities that became the venue of the event, namely Jakarta and Palembang. The success of Asian Games 2018 one of them is determined by the cleanliness and comfort of athletes and visitors in this event.
Therefore, PT ISS Indonesia, an integrated facility service provider, has prepared 1,000 personnel to manage cleanliness and Comfort at Gelora Bung Karno Complex (GBK) during the Asian Games 2018. As for all Asian Games facilities, ISS Indonesia prepares 4,000 personnel.
Executive Vice President (EVP) - Head of Operations Medium to Large Accounts ISS Indonesia, Harinuan Dongoran explained Indonesia should be able to give a positive impression to all contingents from various countries at the 2018 Asian Games. One way to give a positive impression is by maintaining cleanliness.
"As a good host for Indonesia, ISS is present not only to clean it up, but to remind visitors here to always keep clean, keep Indonesian facilities, keep the country's assets, Indonesia's reputation in the eyes of the International," he said to the media crew recently this.
He also mentioned that for the 2018 Asian Games event, ISS will provide 1,000 employees in an effort to maintain order and cleanliness in GBK.
"We will deploy 1,000 cleaning personnel per day, which is 4 times more than usual, 1,000 more yes, for all venues," he said.
Not only that, he mentioned the ISS will also work together in the management of Wisma Athletes, Kemayoran and Jakabaring Sport City, Palembang.
"Later, during the Asian Games, the total ISS workforce involved could reach 4,000 people, including with the Jakabaring Sport City and Wisma Athletes Kemayoran," he said.