Mandiri Syariah and Muhammadiyah Launch SBMPTM Online
By : Wiyanto Dan Aldo Bella Putra | Saturday, April 14 2018 - 15:00 IWST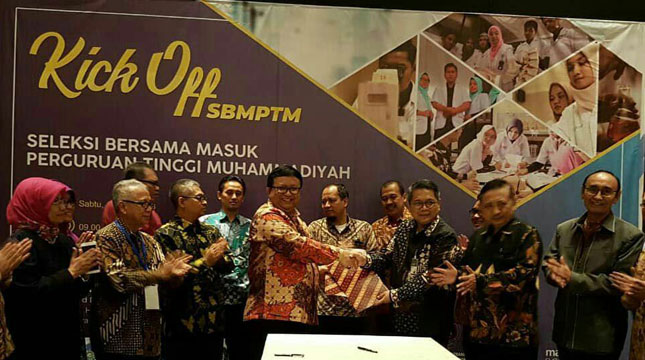 Bank Syariah Mandiri (Mandiri Syariah) Mendukung Layanan Pembayaran Online Kegiatan Seleksi Bersama Masuk Perguruan Tinggi Muhammadiyah (SBMPTM) (Istimewa)
INDUSTRY.co.id - Surabaya - Bank Syariah Mandiri (Mandiri Syariah) supports online payment service for Joint Selection of Higher Education Muhammadiyah (SBMPTM). This year, the Higher Education Research and Development Council (Diktilitbang) PP Muhammadiyah began to organize this online registration system for the Faculty of Medicine at twelve PTM throughout Indonesia.
The online payment service was made following an online payment agreement signed on Saturday in Surabaya (14/4). MoU signing was done by Wholesale Banking Director Kusman Yandi and Chairman of Diktilitbang PP Muhammadiyah Prof DR Lincolin Arsyad, MSc Phd.
Online registration system SBMPTM makes it easy for new students. With online registration, cost and time become more efficient, and flexible due to cross-regional mechanisms. This selection has been done previously in the state university environment. Prospective students simply register through the online portal and make payment via transfer via the nearest Bank Syariah Mandiri or Mandiri Syariah echannel service.
With a registration fee of Rp750.000, - participants have the opportunity to choose three courses of Doctor Education at different PTM and take the exam at the nearest location.
Wholesale Banking Director Kusman Yandi delivered Mandiri Syariah proud to support and synergize with Diktilitbang PP Muhammadiyah in initiating the online registration system SBMPTM. '' PP Muhammadiyah has many universities spread all over Indonesia with good quality. '' In synergy with PP Muhammadiyah, Mandiri Syariah participates in the service of the nation through financial services.
Mandiri Sharia supports the online payment services and infrastructure. "For the initial stage, the online registration system is only for the Faculty of Medicine at twelve PTM. Insha Allah in the future we are ready to support other faculty in 172 PTM scattered throughout Indonesia," said Kusman Yandi.
With online registration, prospective students just choose the desired Faculty of Medicine. After paying, the prospective student is just waiting for the selection of entry and then the announcement of the selection result.
SBMPTM registration will be open for one month starting June 1, 2018 with a quota of about 5,000 participants and 210 seats for participants who pass the first stage.
Kusman Yandi hopes that Mandiri Syariah synergy with Muhammadiyah can contribute to the welfare of society and improve the good image of both parties. "And certainly can contribute to the progress of the Indonesian nation" he concluded.