OJK Issues the Rules of Digital Financial Innovation for Fintech Development Law Umbrellas
By : Wiyanto Dan Aldo Bella Putra | Saturday, September 01 2018 - 16:00 IWST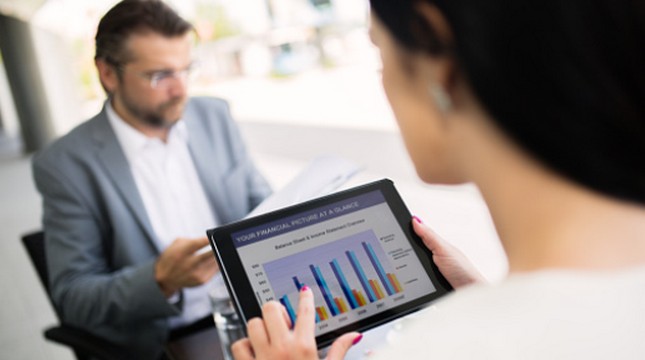 Ilustrasi fintech. (E+/Emir Memedovski)
INDUSTRY.co.id - Jakarta - The Financial Services Authority issued OJK Regulation No. 13 / POJK.02 / 2018 concerning Digital Financial Innovation in the Financial Services Sector as a provision that covers the supervision and regulation of the financial technology industry (fintech).
This regulation was issued by the FSA in view of the rapid technological advances in the digital financial industry that cannot be ignored and need to be managed in order to provide maximum benefit for the benefit of the community, said Chairman of the OJK Board of Commissioners Wimboh Santoso in Jakarta, Saturday (01/09/2018).
Digital financial innovation needs to be directed to produce digital financial innovations that are responsible, safe, prioritize consumer protection and have well-managed risks. This regulation was also issued as an effort to support innovative, fast, cheap, easy and broad financial services and to increase financial inclusion, investment, financing and other financial services.
The main points of the arrangement of Digital Financial Innovation (IKD) include: Mechanism of Fintech Registration and Registration Every IKD organizer, both Startup companies and Financial Services Institutions (LJK) will go through 3 stages of the process before submitting a licensing application: Recording to OJK for Startup / non- companies LJK. Automatic registration requests including requests for testing the Regulatory Sandbox. Whereas for LJK, the Sandbox application is submitted to the supervisor of each field (Banking, Capital Market, IKNB).
The Sandbox Regulatory process has a maximum period of one year and can be extended for 6 months if needed. Registration / licensing to OJK.
The Fintech OJK Monitoring and Oversight Mechanism will stipulate IKD Organizers who are required to follow the Sandbox Regulatory process. The results of the Sandbox Regulatory trial are set with status: Recommended. Repair.
Not recommended. Organizers of IKD who have undergone the Sandbox Regulatory and are recommended submitting a registration application to OJK. For the implementation of monitoring and supervision, IKD organizers are required to carry out supervision independently by compiling self-assessment reports that at least contain aspects of governance and risk mitigation. The IKD organizer is prohibited from mentioning the OJK's name and / or logo but can include a registered / registered sign number.
In the medium term, the OJK can appoint another party (IKD Organizing Association recognized by the OJK) who is in charge of overseeing the IKD.
Fintech Ecosystem Formation In order to maintain a financial ecosystem, Financial Services Institutions that have obtained a permit or registered with the OJK are prohibited from cooperating with IKD Organizers who have not been registered with the OJK or registered with other authorized authorities to maintain financial ecosystems. Building the Culture of Innovation the OJK initiated the establishment of the Digital Financial Innovation Center (Fintech Center) and the IKD ecosystem which aim to be a means of communication, coordination and collaboration between relevant authorities and IKD actors as well as the IKD Innovation and Development forum.
IKD organizers are obliged to carry out activities to improve financial literacy and inclusion to the public. Business and Data Protection IKD organizers are required to provide technology-based consumer service centers as a form of education and protection of consumers and their businesses. Effective Risk Management IKD organizers must implement the principle of independent monitoring, inventory key risks, prepare risk self assessment reports on a monthly basis, and have tools that can improve efficiency and compliance with the monitoring process carried out by OJK.
With the establishment of Fintech Center, it can help run the Sandbox Regulatory process as an incubation step for an inclusive business model and fulfill the precautionary principle and increase synergy between industry, government, academia and other innovation hubs.
Consumer Protection Providers are required to apply the basic principles of consumer protection, namely (a) transparency, (b) fair treatment, (c) reliability, (d) confidentiality and security of consumer data / information, and (e) simple handling of complaints and consumer dispute resolution , fast, and affordable costs.
The IKD organizer is obliged to apply the principle of market-based supervision, risk and technology to its innovations, among others must pay attention to the transparency of products and services, competitive and inclusive markets, conformity with consumer needs, handling complaints mechanisms immediately, and security and confidentiality aspects of consumer data and transactions .
Anti-Money Laundering and Terrorism Funding IKD organizers are also required to implement anti-money laundering and prevention of terrorism funding in the financial services sector to consumers in accordance with the OJK Regulation in the field of AML-CFT (AntiMoney Laundering and Counter-Financing of Terrorism). Previously, OJK had issued a regulation regarding fintech peer to peer lending through POJK 77 / POJK.01 / 2016 concerning Information Technology-Based Money Lending and Borrowing Services.