250 Chinese Companies Showcase Latest Electronic Products in Jakarta
By : Herry Barus And Aldi Firhand. A | Friday, September 07 2018 - 19:48 IWST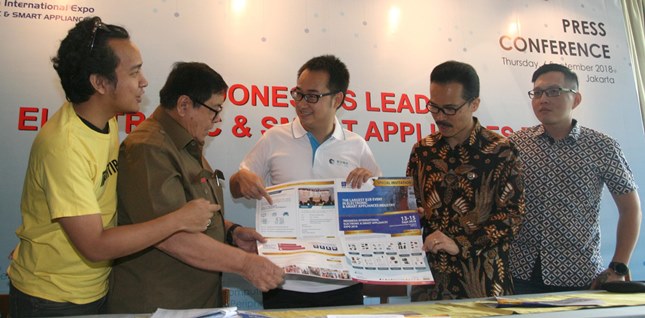 China Electronic Exhibition (Photo of Kormen)
INDUSTRY.co.id - Jakarta-ChaoYu Expo and Expo Exhibition will again hold B2B (business to business) exhibitions of electronic products and accessories named International Electronic & Smart Appliances Expo 2018.
The exhibition which will be held for three days on September 13-15 2018 at the Jakarta International Expo, Kemayoran, will be attended by hundreds of leading electronic product manufacturers in China and Indonesia.
Jason Chen, General Manager of ChaoYu Expo as the organizer of the exhibition, said that electronic industry players in China see Indonesia as a potential market to market their products. They take advantage of these market opportunities by holding the 2018 International Electronic & Smart Appliances exhibition with the support of the Chinese government.
"If all this time many Indonesian entrepreneurs are looking for business opportunities to visit Guangdong. This time, Guangdong entrepreneurs are actually present in Indonesia to explore business cooperation with Indonesian entrepreneurs. So we hope this opportunity can be used well by industry players from both countries, "added Jason Chen.
This year is a routine annual exhibition entering the second year. Last year's success and the positive response from the exhibitors encouraged the exhibitors to return this year to expand their product markets in Indonesia, even with an increasing number of participants. The exhibition will be attended by 250 companies with the majority of participants from China, namely 80%, and 20% from within the country. These electronics and accessories manufacturers are from Guangdong province.
Guangdong is a province which is China's main economic zone covering 9 industrial cities namely Guangzhou, Shenzhen, Zhuhai, Foshan, Jiangmen, Dongguan, Zhongshan, Huizhou and Zhaoqing. Guangdong contributes the largest uto domestic product to the Chinese economy.
Occupying an area of ​​8,000 m2, more than 25,000 kinds of electronic products will be exhibited including Consumer Electronics, Mobile Phone & Accessories, Computer Networks and Accessories, In-Car Electronics, Security Products & Smart Home, LED & Energy Saving Products, Home Appliances, Electronic Equipment & Components, etc.
ChaoYu Expo and Expo Exhibition as the exhibition organizers target 5,000 potential visitors to make transactions. "Potential visitors aged 20-50 years who generally need the latest electronic products and high income," said Jason Chen.
The 2018 International Electronic & Smart Appliances exhibition supported by related associations include APTIKNAS (Association of Information and National Technology Entrepreneurs), ASISINDO (Indonesian Association of System Integrators and Security), APERLINDO (Indonesian Electricity Industries Association), GECC (Guangdong Electronic Chambers of Commerce) & DEIA (Dongguan Electronic Industry Association), as well as the Indonesian Ministry of Foreign Trade, and the Chinese Embassy in Indonesia.
In addition to the exhibition, visitors can also attend various seminars that are important to add insight and knowledge such as seminars held by importers with the theme "How to Import Goods from China Easily", etc. (Kormen)