Asaki Claims Government Promises to Issue Safeguard Rules
By : Ahmad Fadli And Aldi Firhand. A | Friday, September 07 2018 - 20:08 IWST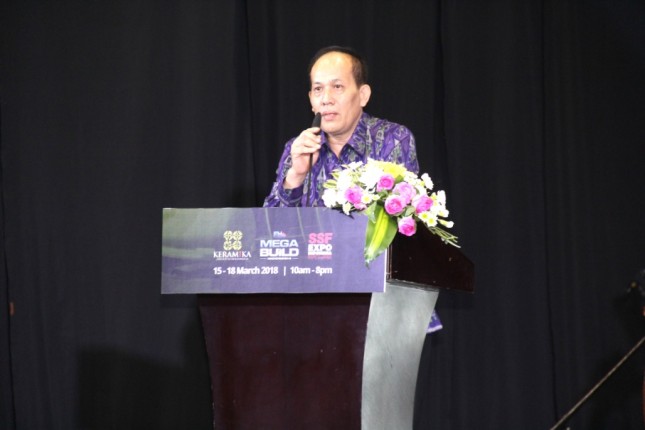 Chairman of Asaki, Elisa Sinaga (Photo: Herlambang / Industry.co.id)
INDUSTRY.co.id - Jakarta - The Indonesian Association of Various Ceramics (ASAKI) has called for the realization of the government's promise that it has not yet implemented a ceramic import safeguard which should be issued in early August. The reason is, the ceramic industry is currently in a bad condition due to imported products.
This was stated by General Chairperson of the Indonesian Ceramic Association (ASAKI), Elisa Sinaga to INDUSTRY.co.id, Friday (7/9/2018) which addressed the government's policy in adjusting the import tax of 1,147 commodities.
"The PPh adjustment policy, one of which is for ceramics, in my opinion the impact cannot be much because it can only increase by 20 percent. Therefore, safeguards still need to be implemented simultaneously, "he said
Elisa said that currently China's ceramic tile production is experiencing a huge oversupply, so it needs to be dammed to protect domestic industries. Moreover, he added, national ceramic producers have the capacity and ability to meet domestic needs.
At present, domestic utility utility rates have decreased by 60% from installed capacity of 580 million square meters. Pressure also arises from high gas prices.
Elisa emphasized that it does not mean anti-import because it is prohibited by the WTO and to create competition. What is wanted by domestic ceramics actors is fair competition.
In addition, he continued, the domestic industry needs to be maintained because it absorbs employment. Moreover, sufficient raw materials and the ability to adjust the product in accordance with the demands of the community owned by domestic producers.
Elisa also said that domestic producers must be able to compete without safeguard safeguards in the future because they are temporary so that the industry cannot fully protect this policy.
"Usually safeguards for 3 to 5 years, only temporarily in maintaining the sustainability of the industry during fixing competitiveness. We also encourage the ceramic industry to compete without safeguards, this must," he said.
For information, ceramics became one of the products, from 719 items, whose import income tax was increased from 2.5% to 7.5%.
In addition to 719 products, the results of the government review concluded that it was necessary to adjust Article 22 income tax rates to 210 items of commodities with rates that increased from 7.5% to 10% for luxury goods, including CBU cars and large motorbikes, as well as 218 PPh tariff items up from 2 5% to 10%, in the form of consumer goods which can be mostly produced domestically, such as electronic goods, daily necessities (soap, shampoo and cosmetics), as well as cooking utensils / kitchenware.