Six Polbangtan Launched, Ministry of Agriculture Ready to Print Young Agricultural Entrepreneurs
By : Wiyanto Dan Aldo Bella Putra | Tuesday, September 18 2018 - 18:30 IWST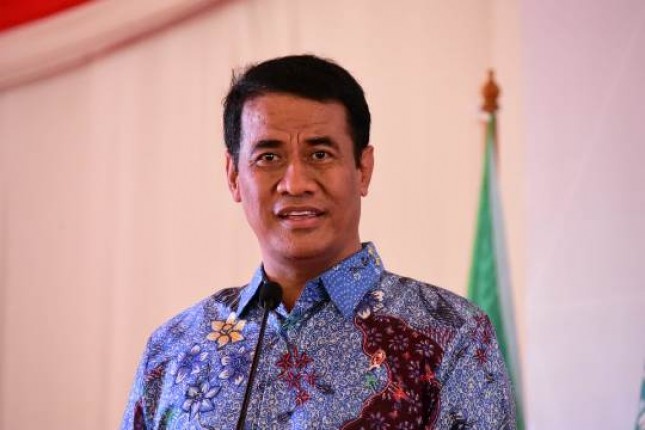 Mentan Andi Amran Sulaiman (Dok Industry.co.id)
INDUSTRY.co.id - Bogor - Ministry of Agriculture (Ministry of Agriculture) officially launched the Agricultural Development Polytechnic (Polbangtan) in Bogor, on Tuesday (18/09/2018). Vocational higher education institutions under the guidance of the Agricultural Human Resources Counseling and Development Agency (BPPSDMP) Ministry of Agriculture are a transformation of the College of Agricultural Extension (STPP). Development of vocational education is indeed the focus of the Jokowi-JK government to encourage national competitiveness.
"This transformation is an effort to regenerate skilled workers in agriculture who have an entrepreneurial spirit or socio agripreneur. "Maintaining the sustainability of agricultural development by producing professional, independent and competitive agricultural human resources," Agriculture Minister Andi Amran Sulaiman said in his speech in Bogor on Tuesday (09/18/2018).
Amran said, this transformation was the Ministry of Agriculture's response to the changes and challenges of the rapidly developing agricultural sector, as well as the implementation of the Law (UU) No. 12 of 2012 concerning Higher Education.
"This change is not intended only to print skilled workers in agriculture. But more than that, creating entrepreneurs in agriculture. Graduating from Polbangtan must create jobs, not find employment, "explained Amran.
In general there are several concept changes that accompany this transformation. If initially STPP was only oriented to producing agricultural extension with three study programs, now with the Polbangtan study program being 13 Study Programs offered both for Applied Bachelor (S.Tr) and Diploma III (D III). For Applied Undergraduate majors opened include: Sustainable Agriculture Counseling, Precision Plantation Counseling, Plantation Crop Production Technology, Animal Husbandry Counseling and Animal Welfare, Horticultural Agribusiness, Seed Technology, Animal Feed Technology, Animal Production, and Animal Husbandry Agribusiness. And for Diploma III majors that are not Animal Health, Agricultural Mechanization, Horticulture Cultivation, and Animal Husbandry.
Polbangtan will also apply the concept of learning that emphasizes practice through teaching factory or farm teaching. <>
"The learning process of Polbangtan is oriented to produce Young Entrepreneurs in agriculture. So 30 percent theory and 70 percent practice, "explained Amran.
This learning model invites students to enter the real environment at work. The goal is to foster entrepreneurial abilities of students who produce products that are in line with the demands of the market or consumers.
To support this, the Ministry of Agriculture cooperates with 29 universities for the Young Agricultural Entrepreneurship Program (PWMP), and several private companies engaged in the agricultural sector. For the private sector, on this occasion a memorandum of understanding was also signed with 6 company leaders. Plantations with PT Astra Agro Lestari Tbk and PT Sampoerna Agro Tbk, in the livestock sector with PT Charoen Phokphan and PT Japfa Comfeed, as well as in the fields of food crops and horticulture with PT East West Seed and PT Sabila Farm.
Polbangtan Institution stated in Permentan No. 25 of 2018 concerning the Organization of the Polbangtan Work Procedure is valid for six institutions, including: Medan Polbangtan, Bogor Polbangtan, Yogyakarta Polbangtan - Magelang; Malang Polbangtan, Gowa Polbangtan and Manokwari Polbangtan.
A total of 4,487 students in the 6 Polbangtan will be educated by professional teachers who have competent academic qualifications and qualifications, and must have Instructional Engineering Basic Skills Improvement training certificates (PEKERTI) and Applied Approach.
"The achievement of Indonesia's agricultural performance is very rapid. Production has increased even some commodities have been exported. Conducive business climate is proven by increasing agricultural investment. The contribution of the agricultural sector to the national economy is increasingly significant. This positive trend needs to be developed, so that it becomes an incentive to encourage young people in the agricultural sector. , "said Amran.