Ministry of Agriculture Affirms the Commitment of Farmers' Welfare in the Main Meeting of the KTNA Group
By : Wiyanto Dan Aldo Bella Putra | Saturday, September 22 2018 - 20:00 IWST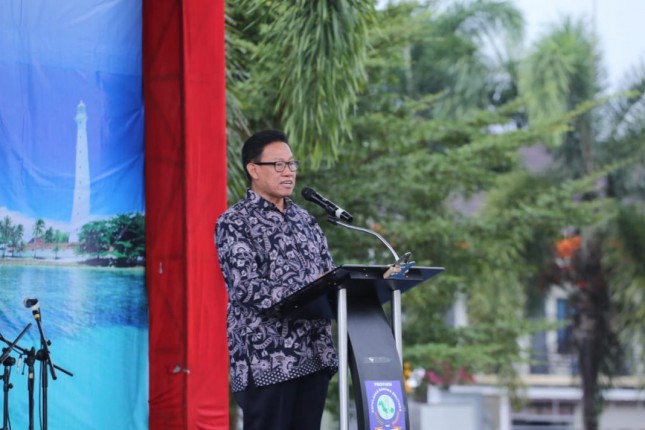 Kepala (BPPSDMP) Kementan Momon Rusmono
INDUSTRY.co.id - Pangkal Pinang - Ministry of Agriculture affirms its commitment to encourage national food productivity to improve farmers' welfare. The existence of farmer groups is very important to empower farmers in welcoming food challenges and global competition going forward.
This was revealed by the Head of the Agricultural Human Resources Development and Development Agency (BPPSDMP) Momon Rusmono, who represented the Minister of Agriculture Andi Amran Sulaiman in remarks at the opening of the Main Meeting of the Mainstay Fishermen Farmers Contact Group (KTNA) and the KTNA Expo, in Bangka Belitung on Friday (21 / 09/2018). The event was attended by General Chairperson of KTNA Winarno Tohir, Bangka Belitung Governor Erzaldi Rosman, Member of the House of Representatives Commission IV Oo Sutisna.
"I hope, because the KTNA is a figure of farmers at the national level and also the main actors of agricultural development, this meeting can formulate and also provide input to the government," Momon hoped. "Let us work hard so that food sovereignty is realized and the welfare of the community and especially farmers can be realized," he continued at the event which was also part of the 47th Anniversary of the Contact of Mainstay Fishermen Farmers (KTNA) which falls on September 23 2018 .
Momon said that the Ministry of Agriculture has taken steps to encourage a big vision of agriculture. Some aspects that are carried out include policies that facilitate the procurement of seeds and fertilizers, deregulation of licenses, refocusing of budgets that are oriented to the welfare of farmers, maximizing agricultural land.
"Including post-production and post-harvest policies. Government has also provided 190,000 units of agricultural machinery (alsintan). The seed subsidy is superior to 7 million hectares. Facilitation of agricultural insurance is more than 700 thousand hectares, construction of 4,520 units of reservoirs, rehabilitation of irrigation networks. more than 3 million hectares, "explained Amran.
For the aspect of the market, controlling the recommendation of imports of strategic commodities and agricultural products, encouraging exports of agricultural commodities, policies for determining the cost of purchase, as well as building the Indonesian Farmers Shop (TTI). As a result, the production of rice, corn, onion increased significantly from the previous year. Likewise with the cattle population that is done with special efforts, cattle must be pregnant (UPSUS SIWAB).
"Agricultural production exports in 2017 reached IDR 441 trillion, up 24 percent from the previous year. Our corn and shallots commodities have stopped imports and encouraged exports," Momon said.
Encouraging Farmer Corporations
Agricultural performance in the past four years has directly affected farmers. Judging from the number of Prosperous Farmer Households increased 85.25 percent in March 2014 to 85.87 percent in March 2017.
"These achievements certainly cannot be separated from the hard work and dedication of agricultural personnel including the institutional farmers. Is it in the form of farmer groups, a combination of farmer groups, and farmers' economic institutions," Momon said.
At present the number of farmer institutions, 662,472 groups, consists of farmer groups of 585,895 groups. While the farmer group combinations (Gapoktan) there are 63,420 groups and economic institutions of farmers there are about 13,157 groups.
"Farmer economic institutions are a necessity in facing global economic competition, increasing productivity, farming efficiency, business scale and competitiveness, as well as accelerating the industrialization of farmers who master the technology carried out through farmer corporations," Momon explained.
The Ministry of Agriculture made a pilot project for the development of farmer-based economic areas in four regions, namely in Lebak Banten for a 1,000 hectare corn commodity, then in East Kolaka for the development of 550 ha of cocoa. Then in Malang for onion, and karawang for rice. In addition, the Ministry of Agriculture synergizes with the Ministry of Public Works and the Ministry of Trade to develop a farmer corporation in the form of a limited liability company in 8 districts in West Java Province.
KTNA according to Momon can play an important role in encouraging farmer groups to be more competitive. Likewise with self-help agricultural extension workers which currently number 25,444 people. "It needs to be strengthened from the aspects of competence and professionalism. Through KTNA intervention, and strengthening institutional extension posts at the village level (posluhdes)," Momon concluded.