Gov't Orders Personnel Supervisor Officers to Act on State Civil Apparatus' Mudik Ban Violations
By : Nata Kesuma | Tuesday, May 04 2021 - 22:45 IWST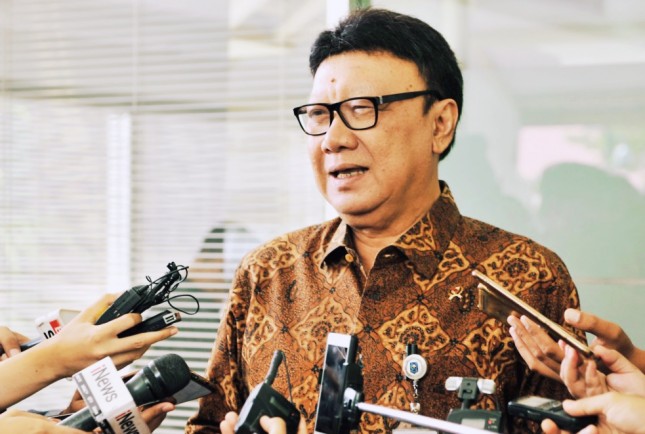 Minister of State Apparatus Empowerment and Bureaucratic Reform Tjahjo Kumolo (Photo by: Documentation of Cabinet Secretariat)
INDUSTRY.co.id - After the announcement of mudik (annual exodus) ban for State Civil Apparatus (ASN), Minister of State Apparatus Empowerment and Bureaucratic Reform Tjahjo Kumolo has ordered the Government's Personnel Supervisor Officers (PPK) to supervise ASNs and act firmly on the violations.
"We order the PPK to supervise their respective ASNs and act firmly if any ASN is proven to have violated them, the Minister said in Jakarta, Monday (03/05).
The mudik ban for ASN is contained in the Circular of Minister of State Apparatus Empowerment and Bureaucratic Reform Number 8 of 2021 on Restrictions for Intercity Travel and/or Mudik and/or Taking Leaves among State Civil Apparatus during COVID-19 Pandemic. The ban will take effect from 6 to 17 May 2021.
The Circular was issued as a followed up to the mudik ban imposed by the Government to anticipate a potential spike in COVID-19 confirmed cases due to people's mobility and to break the chain of transmission.
"ASN must be a good role model for society. I remind you, do not go on a mudik," he said, adding that ASN should invite their respective communities to jointly comply with the policies taken by the Government to reduce the COVID-19 spread.
"Let's protect ourselves, our families, and the people around us. To not go on a mudik is a form of love, protection and responsibility for the family," the Minister said.
ASN who violates the ban will be subject to disciplinary sanctions in accordance with Government Regulation Number 53 of 2010 on State Civil Apparatus' Discipline and Government Regulation Number 49 of 2018 on Management of Contract-based Government Employees (PPPK)
Furthermore, the Minister also reminded students of state-run schools to remain in the school during the long Eid al-Fitr Holiday.
"For those who live in the dorms, stay in the dorms. For those who are not in the dorms, stay in your respective residences. I urge you to not go on a mudik," he said.
The Ministry also facilitates the people who want to report ASNs who go on a mudik. Reports can be submitted via SMS 1708, http://www.lapor.go.id or SP4N LAPOR! mobile application. The report includes the name of the reported ASN, institution and work unit, location, and supporting evidence (if any). "If there are people who see them, they can immediately report to us," he said.