Pondok Gede Hajj Dormitory Hospital Starts Operating for COVID-19 Treatment
By : Nata Kesuma | Wednesday, July 14 2021 - 15:30 IWST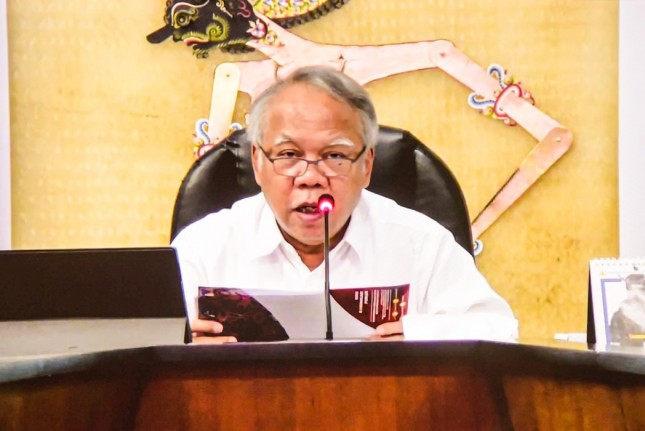 Minister of Public Works and Public Housing Basuki Hadimuljono delivers a press statement after attending a virtual limited meeting on COVID-19 Pandemic Handling, Wednesday (12/7). (Photo by: PR of Cabinet Secretariat/Agung)
INDUSTRY.co.id - In an attempt to anticipate the surge in COVID-19 cases, the Government will provide more self-isolation centers and hospitals for COVID-19 patients, including Hajj Dormitory Hospital in Pondok Gede, East Jakarta.
"It is aligned with our duties and functions to prepare additional isolation rooms and hospitals," Minister of Public Works and Public Housing Basuki Hadimuljono said in a press statement after attending a virtual limited meeting on COVID-19 Pandemic Handling chaired by President Joko "Jokowi" Widodo, Wednesday (12/7)
According to the Minister, Pondok Gede Hajj Dormitory Hospital has started operating for COVID-19 treatment since Saturday (10/7) with five total buildings, including Buildings A, B, C, H, and D5.
"Building A has been operating since Saturday. Based on the report from Minister of Health, there are currently 40 patients who have received medical treatment there. The Hajj Dormitory Hospital only receives referral patients from hospitals or health centers," he said.
Basuki went on to say that Hajj Dormitory Hospital will serve patients with mild and moderate symptoms. "There is no intensive care unit (ICU) in the hospital, only High Care Unit (HCU)," he added.
The infrastructure for Building B has been completed and will be operated Monday (12/7), while Building C and H are targeted to start operating Tuesday (13/7) and Building D5 on Thursday (15/7). In addition, there are also Buildings D3 and D4 that will serve as Health Workers' Dormitory Buildings.
"We are also installing a liquid oxygen tank, which, insyaAllah, will be completed today. The tank arrived last night at 11 p.m. from Cilegon, so we installed it immediately. Hopefully, the installation will be finished tonight," he said.
Basuki also revealed that the Government has prepared a centralized self-isolation place at low-cost apartment (rusun) in Pasar Rumput, Jakarta, with a capacity of 5,952 beds in three towers. Tower 1 consists of 689 units with 2,067 beds and is ready to operate.
"The infrastructure of Tower 2 and Tower 3 is well-prepared. This morning, the beds and medical equipment have started to enter the buildings. In case Tower 1 reached full capacity, we will operate those towers," he explained.
On that occasion, the Minister stated that his agency would also prepare a special zone for handling COVID-19 at Dr. Cipto Mangunkusumo General Hospital (RSCM) in Central Jakarta.
"We have been assigned by Minister of Health to prepare the Kiara Hospital or Kiara Pavilion of the RSCM Hospital for COVID-19 treatment on the 3rd, 4th, and 5th floors, as well as the 8th, 9th, and 10th floors with a total of 390 beds," he said.
The Minister further said that the project is targeted to be completed within three weeks. "InsyaAllah, we will start working tonight or tomorrow morning. We will be able to use it for the COVID-19 Hospital no later than three weeks," he added.
Basuki also pointed out that his agency is also ready to participate in preparing field hospitals in accordance with the assignments given.
"For the fourth hospital, field hospital in the regions, we will be ready to carry out the project in accordance with the needs of the National Disaster Management Agency (BNPB) and Ministry of Health," he remarked.