PPKM Level Adjusted to Conditions in Each Region, Coordinating Minister Says
By : Nata Kesuma | Wednesday, August 25 2021 - 03:27 IWST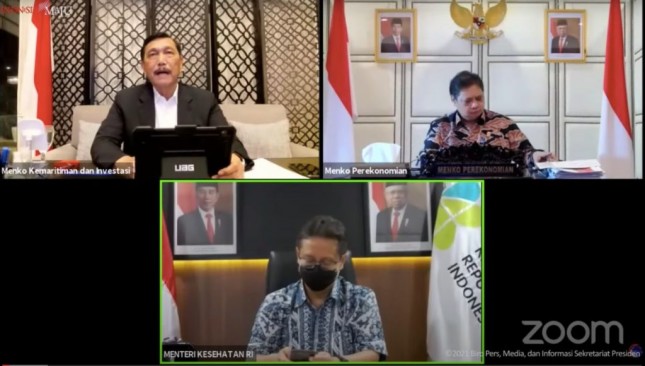 Coordinating Minister for Maritime Affairs and Investment Luhut Binsar Pandjaitan, Coordinating Minister for Economic Affairs Airlangga Hartarto, and Minister of Health Budi Gunadi Sadikin, Monday (23/08/2021).
INDUSTRY.co.id - The Government has announced that it will extend the Public Activity Restrictions (PPKM) which will take effect from 24 August to 30 August 2021 for Java and Bali Islands and until 6 September for outside Java and Bali with adjustments in several regions.
Coordinating Minister for Maritime Affairs and Investment Luhut Binsar Pandjaitan emphasized that the PPKM will continue to be implemented during the pandemic as an effort to handle COVID-19 as well as for economic recovery.
"This PPKM will continue to apply during the pandemic because it is our measure to control the COVID-19 and to recover the economy. The level of the PPKM will be adjusted to the conditions of each region and applies every 1-2 weeks based on an evaluation meeting led by the President every week," said Luhut in a press statement, Monday (23/8).
The Coordinating Minister also expressed hope that all regencies/cities can apply PPKM Levels 2 and 1 soon if all parties are disciplined and work together.
"Controlling the COVID-19 pandemic requires patience, solidarity, discipline, hard work, and our prayers. We have to work hand in hand to do this," he said.
Luhut went on to explain that in the PPKM for this period, there are a number of regions that had dropped its levels.
"As conveyed by the President, the agglomeration areas of Greater Jakarta, Greater Bandung, Semarang Raya, and Greater Surabaya experienced a decline in level from Level 4 to Level 3 this week," he said.
With this decision, the number of regions in Java and Bali that are at Level 3 is 67 regencies/cities and Level 2 is increase from two to ten districts/cities. Meanwhile, specifically for the agglomeration areas of Bali, Malang Raya, Solo Raya, and the Special Region of Yogyakarta, they are currently still at Level 4.
However, Luhut estimated that in the near future those areas will soon enter Level 3 due to ongoing improvements in COVID-19 handling. Furthermore, the Coordinating Minister said that in the evaluation of the PPKM level, the Government added mortality data as an indicator of the Level Assessment according to the reference set by the WHO.
"This is due to the improvement in mortality data in some areas, while the previously unreported cases of death have also been reported," he said.
Related to this, in the next few days it is estimated that there will be an increase in the trend of confirmed cases and also new death cases issued by several districts/cities.
"Regarding the high mortality rate in some areas, the President specifically ordered for immediate checks and interventions in the field," he added.
Luhut said that one of the causes of the high mortality rate was the public's reluctance to isolate in a centralized isolation facility so that when their condition got worsened during self-isolation, they are too late to get treatment in health facilities.
"For this reason, the Government continues to urge and invite people who are confirmed positive for COVID-19 to get treatment in the isolation centers that have been prepared by the Government. Let us prevent it as early as possible, so we can take care of each other and avoid this pandemic," he said.