Sentra Mitra Informatika Cloud Server Sales Likely to Reach Rp135 Billion
By : Abraham Sihombing | Saturday, August 28 2021 - 19:55 IWST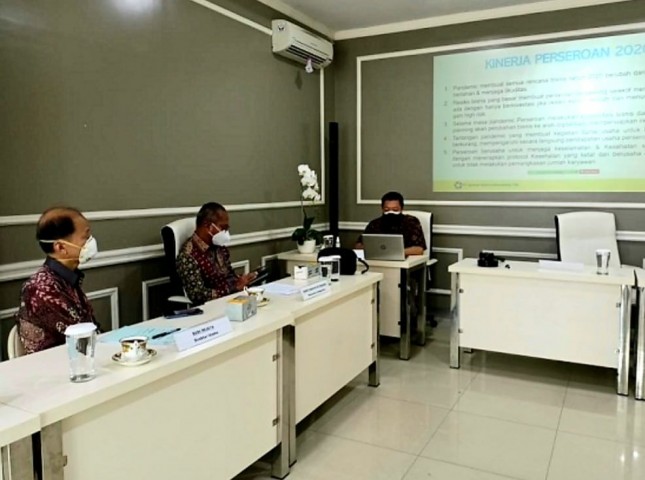 The management of PT Sentra Mitra Informatika Tbk is completing a presentation in the public expose on Friday (27/08/2021) in Jakarta. (Source: the Company's PR)
INDUSTRY.co.id - Jakarta - The management of PT Sentra Mitra Informatika Tbk (LUCK), a public firm which runs business in printing and document solution as well as information technology (IT) product sales, expects the cloud server sales to reach Rp135 billion in 2021. The company's management is optimistic, the sales target will be reached through a collaboration with Alibaba Cloud.
"A Software Solution B2B & IT Management System businesses will be developed by Managed Print Service that supports Work From Home culture. The business will be focussed to cloud server sales in a collaboration with Alibaba Cloud," said Budi Wijaya, the President Director of LUCK, in a virtual public expose on Friday (27/08/2021).
Budi clarified, up to 2021, the compay still relies on e-commerce sector as its business focus because the Covid-19 pandemic has made all of business plans change since 2020. The company has changed its business expansion into maintaining liquidity.
"A high risk of business has made the company is more prudent for choosing a chance selectively. The company will complete investing activity if the risk is low. The company also cancels a high risk, high gain investment," Budi clarified.
Budi disclosed, as long as pandemic, the company has completed a consolidated business and prepared a plan to change business into digital business for industry 4.0. The pandemic has resulted fewer business activities are controlled from office. These kind activities influence the company's income directly.
"However, the company's management will keep the employee's safety and healthy continually by implementing a health protocol dan remains not to lay off them," Budi added.
One of the recent company's business activity for maintaining its business performance is to support the business of PT Sentral Kreasi Inovasi (SKI), the company's subsidiary, that has become a supplier at Lembaga Kebijakan Pengadaan Barang dan Jasa (LKPP). Besides, through e-Katalog for the 2021 third quarter, SKI is going to focus into new business development to support Busisness to Government (B2G).
"On that business, SKI is going to focus on markets of three dimension (3D) printer and 3D scanner as one of the industry 4.0. four pillars. All of the four pillars are Artificial Intelligence (AI), Internet of Thing (IOT), Cloud, and 3D printer," said Budi finally.
Besides improving its business performance, the management also change the membership of the Board of Commissioners (BOC) and the Board of Directors (BOD) of the company. The President Commissioner currently is held by Ir. Hendropranoto Suselo and the President Director is chaired by Budi Wijaya.
The followings are the new structures of the BOC and the BOD of the company:
Board of Commissioners:
President Commissioner : Ir. Hendropranoto Suselo
Independent Commissioner : Edwin Pamimpin Situmorang
Board of Directors:
President Director : Budi Wijaya
Director : Teddy Pohan
Director : Bidiawati
Director : Phillip Foster Warren