Colors Boat and Homestay Enliven Tidung Festival 2017
By : Chodijah Febriyani And Aldi Firhand A | Sunday, August 20 2017 - 13:02 IWST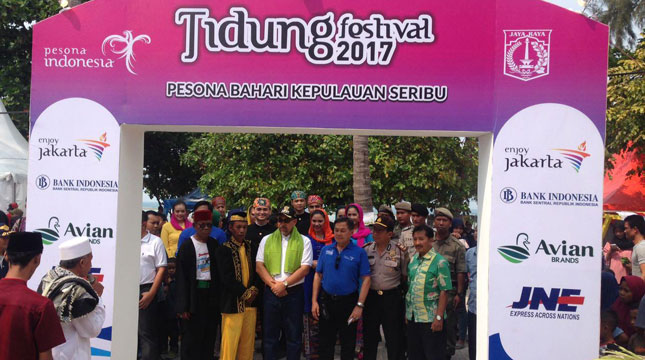 Tidung Festival 2017 (Ist)
INDUSTRY.co.id - Tidung Festival 2017 this year, presents various series of interesting and unique activities. The People itself enthusiastically participated in the event by participating in the ship creation competition and the homestay coloring competition.
By using Avian Brands paint, they are ready to color with bright colors and of course in order to attract tourists.
The event, which took place from August 19 and 20, 2017 is held at the Bridge of Love, targeting to bring in 10 thousand tourists. Tidung Festival 2017 event in addition to presenting the beauty of nature tourism in the form of beaches, and various underwater biota, but also expected to be the destination of choice of tourists who visit Jakarta.
For the race has begun on August 16, 2017 and will be selected three winners for each category. This competition, aimed to invite residents Tidung Island to give new colors on the ship and homestay so Tidung Island has its own icon and of course, the area can be a tourist attraction for selfie.
According to Novi Christiana, Deputy Marketing Director of Avian Brands, said, "Indonesia's tourism growth is getting more positive, through Tidung Festival, Avian Brands fully supports Indonesia tourism development," She said. / 8/2017).

To that end, Avian Brands provides 375 kg of Avian Wood and Iron Paint which is used for the creation race of 30 ships and 500kg Avitex Paint Wall for 40 homestay color creation creations.

Tourism that became the pride of Indonesia, is also positioned as an important means in order to introduce the culture and natural beauty of the related areas, and able to revive the economy of the surrounding community. This is in line with Avian Brands tagline to provide more value for all parties.
More than just support, Avian Brands hopes Tidung Festival can represent Indonesia's potential cultural diversity, art and natural beauty to attract foreign tourists, thus introducing Indonesia as a cultural tourism destination on an international level.
"The presence of colorful nuances will provide a variety of nuances with various festivals and competitions are available at Tidung Festival. That way, Tidung Island can become more colorful and give a positive impact on the tourism sector as well as improve the economy of the Thousand Islands, "She concluded.

A series of diverse festivals will enliven the Tidung Festival, including the Music Festival, Cultural Festival, Traditional Games Festival, Culinary Festival, residents and tourists are also treated to a variety of race activities and environmental activities by planting 10 thousand mangrove seeds.