Aiming for Sales Increase, HOKI Prepares New Products
By : Nata Kesuma | Thursday, December 23 2021 - 17:00 IWST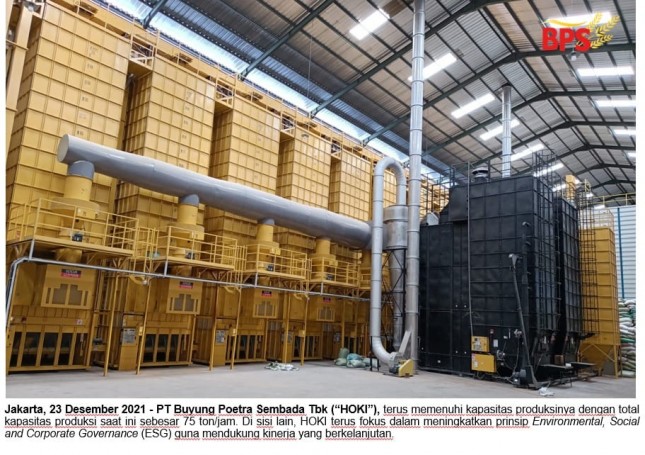 PT Buyung Poetra Sembada Tbk ("HOKI")
INDUSTRY.co.id - Jakarta, December 23, 2021 – PT Buyung Poetra Sembada Tbk ("HOKI"), an issuer of quality rice producers under the "Topi Koki" and "HOKI" brands, continues to innovate in business by preparing two new products as a move to become a consumer goods company.
HOKI's new products that are being prepared are corn rice and cassava rice produced by its new subsidiary, PT Hoki Distribusi Niaga (HDN). The existence of this new product is to boost HOKI's sales in the future, the new products prepared by HDN are expected to bring good contribution to HOKI's performance.
Budiman Susilo as Director of HOKI, "We are optimistic that in the future we can continue to increase our sales. Especially with the diversification of new products from our subsidiary, namely HDN. The goal is to be able to provide added value and be a blessing to consumers and stakeholders.
Therefore, in the process of product research and development, we always prioritize and focus on ensuring the presence of customer value that is in accordance with the needs and lifestyles of our consumers today. This new product is also part of the Company's quality product development strategy to support a healthier lifestyle for our community."
HOKI through HDN, for corn and cassava rice products, is currently in the final stages of launch preparation. This product is expected to suit the lifestyle of consumers who are increasingly concerned with health, quality, and practicality. The Company's corn and cassava rice products have also obtained a permit from the Food and Drug Supervisory Agency ('BPOM') and Halal Certificates from the Indonesian Ulema Council ('MUI'). HOKI plans to start marketing these products in Greater Jakarta in 2022. The marketing of the new HOKI products also plans to accelerate its expansion to five major cities in Indonesia.
HOKI also adding a dryer and rice milling machine at its Subang factory, West Java. In line with the improving post-pandemic economic conditions, and supported by product innovations that favor the needs and lifestyle of today's consumers, HOKI continues to fulfill its production capacity.
On the other hand, HOKI also continues to focus on Environmental, Social and Governance (ESG). Welcoming the carbon tax era in April 2022, HOKI also continues to support sustainable business practices. HOKI's efforts include running a Rice Husk Power Plant with a capacity of 3MV in Palembang, South Sumatra, in order to utilize waste from rice husks.
In addition, HOKI has installed a machine that processes husks into pellets. HOKI has also been awarded the first stage of ESG certification globally by Planet Mark and is currently in the second stage of the process.
For information, in the Third Quarter of 2021, HOKI recorded an increase in gross profit margin of 14.18%. HOKI's gross profit margin has also increased in recent quarters thanks to the addition of dryers. Along with changes in consumer behavior patterns during the Covid-19 pandemic, HOKI's online sales were also recorded to increase by around 147% in the Third Quarter of 2021 compared to the Third Quarter of 2020.
"It is expected that with the new product and the implementation of HOKI ESG, we can target an increase in sales in the future. And, HOKI can continue to contribute to a sustainable environment," concluded Budiman.