HOKI Launches Another New Product
By : Nata Kesuma | Thursday, May 12 2022 - 15:26 IWST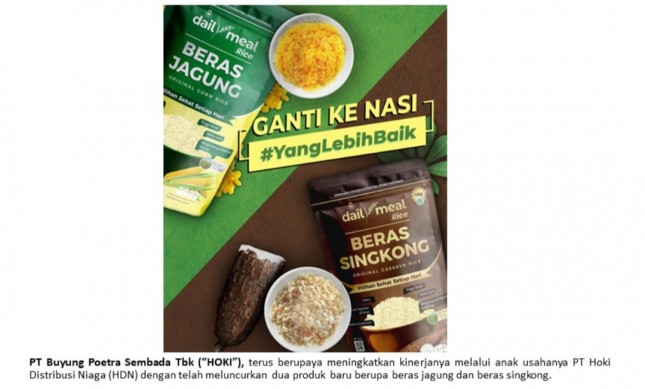 PT Buyung Poetra Sembada Tbk ("HOKI")
INDUSTRY.co.id - Jakarta, May 10, 2022 – PT Buyung Poetra Sembada Tbk ("HOKI"), a Public Company which produces quality rice under the "Topi Koki" and "HOKI" brands, continues to innovate by re- launching new products. This is HOKI's effort to maintain focus on its business expansion in consumer goods.
This time, HOKI through its subsidiary PT Hoki Distribution Niaga (HDN) will launch its newest innovation, namely DailyMeal Eats and DailyMeal Rice product series.
Budiman Susilo as Director of HOKI said, "We are committed to keep bringing product innovations that meets the needs and lifestyle of today's society, which prioritizes taste, quality, health, and practicality. We hope that with these innovations, we can present products that the public adores and continue to improve HOKI's performance."
DailyMeals Eats presents a series of products created by Indonesian culinary heritage with 100% original spices, delicious, and very practical to prepare. Currently, there are 3 variants of DailyMeal Eats, namely kebuli rice, spicy special fried rice, and fragrant savory uduk rice.
DailyMeal Rice with 2 variants of corn rice and cassava rice, presents rice innovations that support healthier lifestyle choices, are tasty, and are suitable to be combined with various existing side dishes. DailyMeal Rice products, corn rice and cassava rice are also safe for consumption by diabetics.
In addition to presenting new products, HOKI also innovates through marketing activities by getting closer to consumers through outlet retail transaction-based online at WarungKoki.ID. Through WarungKoki.ID which is now present around residential areas, modern market, and modern gas station in various strategic areas in Indonesia, ranging from Jabodetabek, Banten, West Java, and others, customers can enjoy the convenience of shopping for complete variants of Cap Top Koki rice and all DailyMeal products with 100% quality guarantee and various interesting promotions.
Then, to broaden engagement with customers, WarungKoki.ID will also be present on various e-commerce platforms in Indonesia soon. It should be noted that as of December 2021 through various innovations carried out, both in products and marketing channels, HOKI achieved the total sales amounted to IDR933.6 billion. It is expected that as economic conditions begin to recover, HOKI can improve its performance.
HOKI also continues to be active in the sustainability business through rice husk management. HOKI has built a Rice Husk Fueled Power Plant in Palembang, South Sumatra with a capacity of three megawatts (MW) of electricity and one of the first in Indonesia. HOKI also makes a machine to press rice husk waste into pellets at the Subang Factory, West Java to be used as fuel. Then, HOKI also produces rice brand flour for a mixture of animal feed, fertilizer, and egg mats.
"HOKI will continue to focus on maintaining the sustainability aspect in line with all of our innovation and business development activities, especially in the consumer goods. In the future, we are confident that we can achieve even better performance," concluded Budiman.