Viddsee Partners WarnerMedia for Regional Storyteller Boot Camp with the Launch of "Storytelling For Good" Programme
By : Nata Kesuma | Saturday, January 08 2022 - 10:45 IWST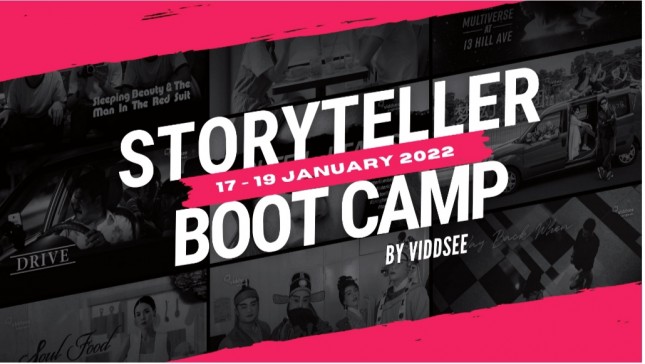 Storyteller Boot Camp
INDUSTRY.co.id - Singapore - Regional storyteller platform, Viddsee, to kick off 2022 with an inaugural Storyteller Boot Camp in partnership with WarnerMedia and Motion Picture Association (MPA).
The boot camp will be held over 3-days from 17 - 19 January 2022, with 12-sessions by 35 speakers, covering topics from the basics of storytelling to insightful masterclass sessions about mobile storytelling, budgeting, showrunning, creative producing and pitching concepts.
Speaker highlights leading the masterclass sessions of the boot camp include David Uloth, director of The Voice and The Far Shore; Peabody and Golden Bell award-winning drama and documentary filmmaker, and co-founder of IFA Media, Francis Smith; and mobile storytelling expert, Miranda Morey.
"Today, becoming and growing as a creator comes from unstructured ways. We are excited to bring together experts in the field of storytelling in a knowledge sharing session with hopes to further develop and grow the storytelling community in our network of creators," said Ho Jia Jian, Co-Founder, Viddsee. He adds, "The diversity of speakers and topics covered in the sessions will be able to cater to storytellers from the aspiring to experienced."
In support of the storytelling community in the region and the belief in the effectiveness of storytelling for impact and change, the "Storytelling For Good" programme by WarnerMedia and Viddsee Labs, will also be launched at the boot camp. Attendees will be able to submit their story concepts advocating for social change with the opportunity for these concepts to be developed through Viddsee Labs for WarnerMedia.
Enabled with the tips and knowledge obtained from the boot camp, the programme hopes to identify good pitch concepts from key South East Asian countries. The top 3 winning pitches will be entitled to a share of the SGD$10,000 cash prize.
The Storyteller Boot Camp is open to all storytellers and industry professionals in the region. Registration is free, and interested participants may register for the bootcamp at https://www.viddsee.com/c/storyteller-boot-camp.