MTDL Strives to Support National Digital Economy Ecosystem
By : Nata Kesuma | Wednesday, January 12 2022 - 14:37 IWST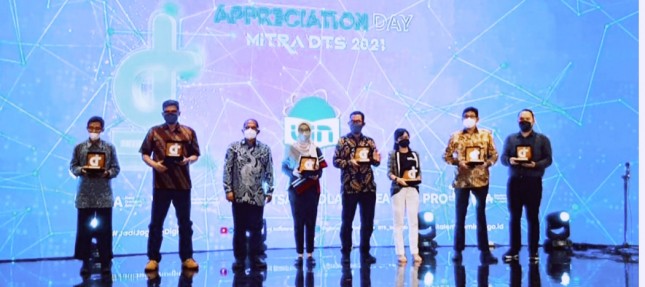 PT Metrodata Electronics Tbk ('MTDL')
INDUSTRY.co.id - Jakarta, January 10, 2022 - PT Metrodata Electronics Tbk ('MTDL'), an Information and Communication Technology ("ICT") issuer in the field of digital solutions and hardware and software distribution, continues to encourage the advancement of digital technology in Indonesia as part of its new vision, which is to become a leading digital economy hub & enabler or center for the actualization of the leading digital economy.
As part of their steps, MTDL continues to contribute to increasing digital talent by developing the potential of national digital talent through various programs, training, and competitions.
MTDL through its subsidiary PT Mitra Integrasi Informatika ("MII") in the Metrodata Academy division as an official partner for the Digital Talent Scholarship Ministry of Communication and Information Technology ('Kominfo') has successfully provided training of technical and soft skills for the latest students who graduated through the Fresh Graduate Academy Digital Talent Scholarship program ("FGA DTS").
Herryanti, Director of MII said, "Through the FGA DTS program, we hope that the program will continue to collaborate with the government and all Indonesian people to prepare skilled and innovative digital talents in the digital era. In line with MTDL's new vision and mission, we will continue to reach out to a wider range of digital talents."
The FGA DTS program is a training to increase competence in the ICT field as one of MTDL's innovative steps to become the center of the national digital ecosystem by increasing digital talent. This program aims to prepare graduates to have professional competence in accordance with the development of science and technology in the industrial era 4.0. In this program, Metrodata Academy cooperates with three official partners, namely EC-Council, Oracle, and Red Hat.
There is a demand for 600 thousand digital talents per year until 2030, 'Kominfo' targets 100 thousand digital talents to be certified nationally to internationally in 2021 and Metrodata Academy contributed to the success of 'Kominfo's' target by producing more than 850 certified new graduates in October 2021.
Along with training programs, other support from MTDL comes through its subsidiary PT Synnex Metrodata Indonesia ("SMI") which held a prestigious competition, namely Indonesia Edge.AI Challenge 2021 with Intel to support digital talent. This competition targets companies and Independent Software Vendors (ISV) that already use Artificial Intelligence (AI) technology that is developed and ready to be marketed.
"With the Indonesia Edge.AI Challenge 2021 competition, we are happy and proud to be able to give birth to new seeds, especially in the field of AI solutions and contribute to realizing the digital economy. It's time for us to focus on finding business partners/ISVs who already have market-ready solutions, continue to innovate, and provide new ideas that have an impact on market development and acceleration of digitization. Another added value of this competition is that we will offer distribution cooperation contracts for their best solutions," said Lie Heng, Solution Business Director of SMI.
SMI is an innovative ICT distributor with more than 5,200 experienced channel partners in more than 150 cities throughout Indonesia. In the future, MTDL through its subsidiaries will continue to support the acceleration of digitization by presenting digital talents who are able to compete globally together with partners.
Then, in accordance with its commitment to the new vision and mission, MTDL is expected to continue to be a leading digital economy hub and enabler, as well as a digital solution provider and technology innovator in Indonesia.