Still in Vogue, BELL Offers Various Fabric Variants
By : Nata Kesuma | Monday, January 31 2022 - 18:10 IWST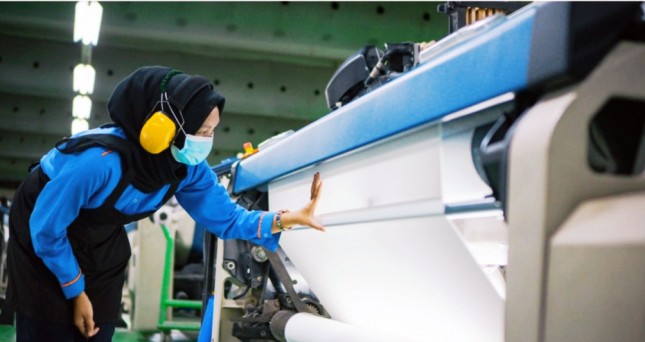 PT Trisula Textile Industries Tbk ("BELL")
INDUSTRY.co.id - Jakarta, – PT Trisula Textile Industries Tbk ("BELL"), an issuer of quality fabrics, uniforms, and fashion, as a textile company with more than 50 years of experience, has various fabric variants with unique features and advantages. As well as, continuously creating new products that are varied and competitive.
BELL has expertise in customized orders using the latest machining technology which is always being updated. Meanwhile, BELL provides 100% Polyester, Polyester Rayon, Polyester Cotton, where the Company's fabric products that are most in demand today are fabric products that have the ability to "stretch" both one way and two way.
said, "We continue to be consistent in providing quality fabrics. BELL also continues to meet customer needs with customized orders. We are proud, BELL fabric is presently widely recognized both at home and abroad, such as for the Bellini and Caterina brands. Where the total BELL fabric until the Third Quarter of 2021 contributed 46.5% to BELL's total sales."
Using state-of-the-art machines and quality, BELL is able to make fabrics with special material, color, and treatment according to customer request. Therefore, BELL also receive many orders for uniforms from various Government and private institutions. BELL fabrics have also been a recurring favorite of many designers to make various types of clothing.
Including the type of stretch fabric that is very comfortable to use and have the advantage; high stretch percentage, can be equipped with a quick absorb feature, has a good color evenness, and optimal stretch recovery ability. All of the Company's fabrics have been certified Standard 100 from Oekotex, and have passed the test according to consumer requirements.
There are many other advantages of BELL fabrics, its polyester fabrics, are durable, not easy to wrinkle, high dimensional stability, easy to dry, can withstand body heat, easy maintenance, and are resistant to mold and water.
On the other hand, BELL also produces fabrics with the Polyester Rayon type with the advantages of being comfortable to use for a long time, good air circulation, high absorption, soft texture, and can display two tone effect. All BELL fabrics can be equipped with water repellent, quick absorption, anti-microbial, anti-odor features and others.
"In the future, BELL will continue to adapt and take every opportunity to produce various types of fabrics with special advantages. BELL will also increase and expand the BELL fabric market to various regions both at home and abroad. And, in line with one of BELL's strategies in 2022, it will also strengthen marketing both through online and offline channels. It is known that conditions have begun to slowly recover and retail stores have also begun to reopen. BELL is optimistic that the product quality and strategy implemented will achieve good performance," concluded Nurwulan.