DRMA Showcases Electric Battery and Electric Bike at JCC
By : Nata Kesuma | Thursday, February 17 2022 - 14:00 IWST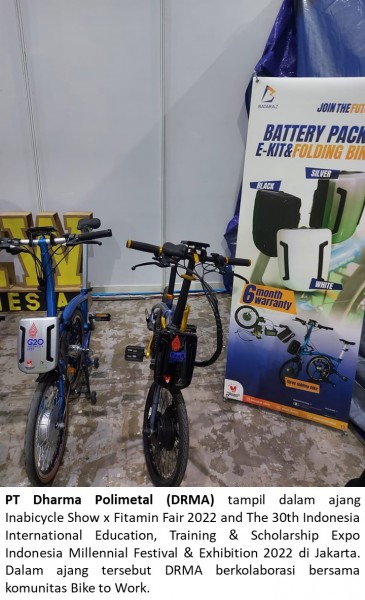 PT Dharma Polimetal Tbk. ("DRMA")
INDUSTRY.co.id - Jakarta, – PT Dharma Polimetal Tbk. ("DRMA"), a listed automotive component manufacturing company, is getting serious about exploring the business opportunities of automotive components for electric vehicle or EV.
Participating in the Inabicycle Show x Fitamine Fair 2022 and the 30th Indonesia International Education, Training & Scholarship Expo Indonesia Millennial Festival & Exhibition 2022 held at the Jakarta Convention Center (JCC) on 3-6 February 2022, DRMA showcased its products used in electric vehicles such as battery packs, E- Kits to electric bicycles.
During the exhibition, Dharma also collaborated with the Bike To Work community to introduce the technology and reliability of the Company's EV products.
Irianto Santoso, President Director of DRMA, said ""DRMA's participation, represented by its subsidiary PT Dharma Control Cable Indonesia (DCI) in the event, is proof of DRMA's readiness to welcome the EV era in Indonesia. At the exhibition, DCI displayed the Bataraz battery pack and E-Kit and electric bicycles with the Polimetal Raynor brand. Based on the event, we are quite optimistic in seeing the development of EVs in the country, seen from the enthusiasm of visitors for our products, there have even been orders, especially for Polymetal Raynor electric bicycles."
In addition to battery packs, DRMA has also started producing other components used in electric vehicles, such as body and chassis components using high-tensile steel, sensors and wiring harnesses. It's worth noting that all of these EV supporting products and technologies are mostly made and developed by DRMA engineers.
Furthermore, Irianto explained that DRMA also has the capacity to produce lightweight HSS and develop HSS as an EV body material. This HSS material has a vital role because for EV cars it requires a material that is much lighter but has the same strength or even more when compared to current conventional car body materials.
"We estimate that the trend towards electric vehicles has a very large prospect for growth. This event can be a momentum for DRMA to introduce EV products and technology that has been developed by the Company and be an opportunity for the Company to continue its better performance in the future," Irianto concludes