Jababeka Together with Japan's Largest Developer (Mitsui Fudosan Asia) Launches the Smart Japanese House Collection
By : Nata Kesuma | Sunday, October 30 2022 - 10:20 IWST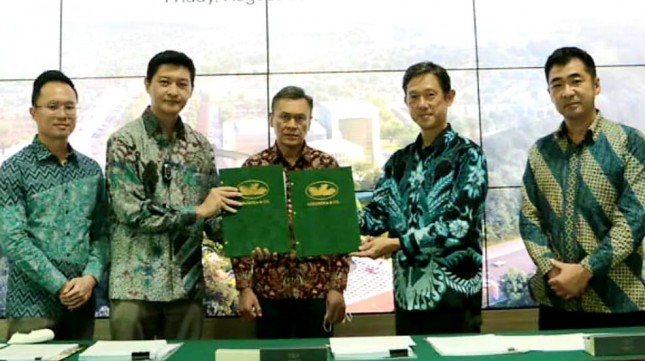 Jababeka signed a Joint Venture Agreement (JVA) with Mitsui Fudosan Asia
INDUSTRY.co.id - Bekasi, October 29 2022 – On August 26, 2022, Jababeka signed a Joint Venture Agreement (JVA) with Mitsui Fudosan Asia. This Joint Venture Agreement (JVA) then embodied a joint subsidiary, PT Jababeka Mitrafamili Residen, that will work on three housing projects with total development value more than 800 billion Rupiah.
The Inauguration of its first housing project took place on Saturday, October 29, 2022.
The Wimbledon cluster was inaugurated by Marcus Lee as Managing Director of Jababeka Residence, Alan E. Wijaya as General Manager Business Development of Jababeka Residence, and Hiroyuki Sato as Executive Director of Mitsui Fudosan (Asia) Pte. Ltd. The Wimbledon cluster is the first housing project of PT Jababeka Mitrafamili Residen in Indonesia with a modern Japanese touch, which can accommodate the Healthy Lifestyle of its community.
Mitsui Fudosan is one of the largest property developers from Japan, which has been established since 1941 and continues to develop the property sector, especially in Asia, Europe, and America. Mitsui Fudosan oversees 367 subsidiaries, including residential, office, commercial, hotel, logistics, and data centers.
Mitsui Fudosan has made a significant contribution to the history of world real estate through its masterpiece such as Tokyo Midtown, Hudson Yards 50 and 55, as well as Hotels and Shopping Centers namely St. Regis Hotel & Residences in Singapore, Halekulani Hotel in Hawaii, and Mitsui Shopping Park LaLaport in Bukit Bintang City Centre Malaysia.
Mitsui Fudosan Asia, a subsidiary of Mitsui Fudosan Co., Ltd, became a strategic partner of Jababeka. Tremendous opportunities and momentums in the Indonesia's property industry have attracted Mitsui Fudosan's attention to expand its business and network since 2012. At this point, Mitsui Fudosan attracted to the great potential of the East Jakarta corridor, especially Jababeka Cikarang area.
"With Jababeka's track record as a township developer covering an area of 5,600 hectares, it has great potential for further development in the future. We are confident that Indonesia's real estate market will continue to grow due to its emerging population and urbanization. This collaboration reflects residents growing interest in sports to meet a healthy lifestyle in the post-pandemic era", said Hiroyuki Sato as Executive Director of Mitsui Fudosan (Asia) Pte. Ltd. on October 29, 2022.
In line with Sato, Marcus Lee responded, "We are very proud and enthusiastic about the cooperation we have carried out with Mitsui Fudosan Asia. Not only because of the company track record as a master planner with a global reputation, but also because of the similar synergy of vision in building an area that represents a healthy lifestyle trend."
Wimbledon is located in the Mega Cluster Sport City Area, Jababeka, Bekasi. The area has 34 hectares and It is equipped with various facilities supporting a healthy lifestyle, such as a 1-hectare area of Sport Hub, which includes mini golf, basketball court, mini soccer, skatepark, outdoor gym, hopscotch, giant chess, and kids climbing wall.
Also, the residents can easily access to the international golf courses and country clubs which are nearby with Wimbledon. All facilities of this area can be enjoyed by Wimbledon residents directly.
"Wimbledon is a residential area that seeks to meet all the needs of the community with a long-term orientation, realizing higher quality housing to live, work, play as well as invest in the future. The physical and mental health of the community is the top priority for the development of facilities at Wimbledon, none other than to improve the living quality and standard of the community in it," said Alan E. Wijaya as General Manager Business Development of Jababeka Residence.
In addition, current trend sees transportation accessibility become the market's main factor in choosing housing to support work productivity. Wimbledon is realized to provide mobility convenience for its community. Thus, there are various accesses for public and private transportation users, It is supported by easy access to the Pantura line, Commuter line station, the future TOD Center Jababeka, as well as the presence of 3 toll gates which are directly connected to the area.
"The facilities provided at Wimbledon have excellent occupancy standards. Not only the health and connectivity aspects, but the family's needs can also be met in this location by supported facilities such education, health and shopping centers. Choosing Wimbledon as our first house was a great decision for our family," said Kristin, one of Wimbledon's buyers at the event site.
The launch of Jababeka's inaugural project with Mitsui Fudosan obtained good results by successfully sold all units in the first phase. With this success, Jababeka and Mitsui Fudosan decided to immediately release the second phase of Wimbledon in the near future.
"With the sale of all units at this early stage, it further convinces us to continue to innovate and develop in order to meet such high market demands while providing solutions for society." Marcus Lee stated.