Swire Properties, A Story of World-Class Excellence and Creative Transformation
By : Nata Kesuma | Friday, March 10 2023 - 15:08 IWST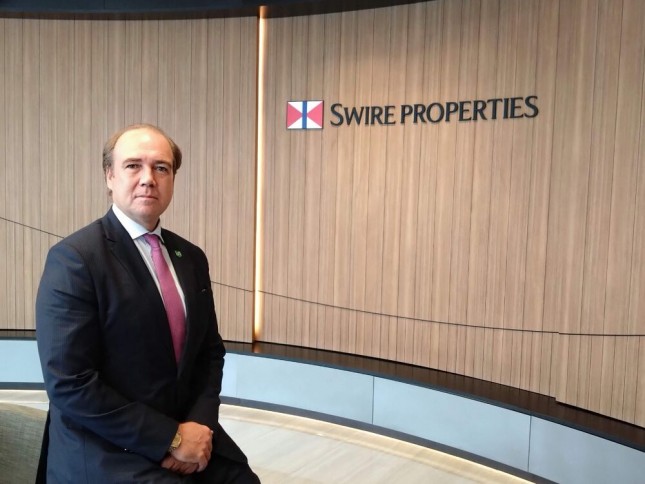 Tim Blackburn, Chief Executive of Swire Properties.
INDUSTRY.co.id - Established in Hong Kong in 1972, Swire Properties Limited aims to create sustained value by developing and managing large-scale mixed-use projects that serve as focal points of the surrounding urban areas.
It is listed in the main board of the Stock Exchange of Hong Kong. With Hong Kong and Chinese Mainland as its core markets, the Company also has presence in the United States and Southeast Asia.
The Company is committed to the core values of integrity, originality, long-term focus and quality, as well as integrating visionary design, first-rate facilities, and exceptional management service with the mindset of Creative Transformation, where creativity is coupled with a long- term approach to placemaking and commitment to sustainable development at every level.
Swire Properties Portfolio Across Hong Kong and the Chinese Mainland
Swire Properties develops and manages commercial, retail, hotel, and residential properties, with a completed portfolio in Hong Kong comprising approximately 16.8 million sq ft (approximately 1.56 million sqm) of space. From upscale residential developments such as OPUS HONG KONG - the first residential project in Asia designed by renowned architect Frank Gehry, to the thriving office developments such as Taikoo Place – the digitally and geographically well-connected business hub with high standard of sustainability and wellness, and retail offerings including Cityplaza, the largest shopping mall on Hong Kong Island, Swire Properties' portfolio offers visionary and sophisticated design, superior facilities, outstanding management services, convenient infrastructure and high space efficiency.
In the Chinese Mainland, the Company has a completed portfolio of approximately 14 million sq ft (approximately 1.3 million sqm) of space in six mixed-use developments in Beijing, Shanghai, Guangzhou and Chengdu. Swire Properties' two retail-led brands - Taikoo Li and Taikoo Hui – have been highly recognised and become national success.
The Company is expanding its presence in the Chinese Mainland marketing by announcing two new projects, including Taikoo Li Xi'an and a new retail-led project in Sanya.
Swire Properties Portfolio Across Asia Pacific
In 2022, Swire Properties unveiled an HKD 100 billion investment plan for the next 10 years in its core markets including South East Asia, Hong Kong and the Chinese Mainland market, in which around 20% of the funds will be allocated to residential trading opportunities in these markets.
In February 2022, the Company announced its first investment in the Bangkok property market by acquiring 40% interest on a premium site located on Wireless Road. This acquisition of rare freehold plot marks Swire Properties' first investment in the Bangkok property market. In a joint venture with local developer City Realty Co. Ltd, the site will be developed into a luxury condominium project.
"South East Asia is an important part of our residential trading strategy and we will continue to explore opportunities which enable us to bring our premium residential brand to new markets in the region," said Tim Blackburn, Chief Executive of Swire Properties.
Swire Properties also has several residential projects in key Southeast Asia cities currently under development, including Ho Chi Minh City in Vietnam and Jakarta in Indonesia.
Savyavasa is a luxury residential development located in the South Jakarta, Indonesia, themed "Creating Harmony. Perfected by Nature". Located in the centre of Jakarta's most vibrant and culturally rich environment, the project consists of 3 towers totalling 418 units with two to four bedrooms; it also features a one km-long jogging trail incorporating natural parklands and an urban forest. Savyavasa is also the first Jakarta residential project to be built up to the Green Mark Gold standard. It is expected to be completed in 2024.
The 50th Anniversary of Swire Properties
Swire Properties celebrated its 50th anniversary in 2022 through a campaign Original.Always that represents its original thinking during this milestone year. 'Original' captures the creative and innovative spirit that has always set Swire Properties apart and is central to what the Company stands for, and 'Always' refers to the long-term commitment over the decades and into the future.
Swire Properties also celebrated the contributions in creating a happier and healthier communities, from transformative placemaking and leadership in sustainability, to the core and consideration for people and the value the Company placed on culture and arts for everyone.
Swire Properties' sustainability efforts continued to be recognised. The Company has advanced to fourth position in the Dow Jones Sustainability World Index (DJSI World) 2022, rising three places from seventh position in the global real estate industry, and the Company continues to work towards achieving its 1.5°C-aligned science-based targets.
For more information about Swire Properties visit www.swireproperties.com. To watch 50th Anniversary Swire Properties video access here.