General Ticket Sales Commence for New International Skateboarding Event, Uprising Tokyo Supported by Rakuten
By : Nata Kesuma | Saturday, March 11 2023 - 11:26 IWST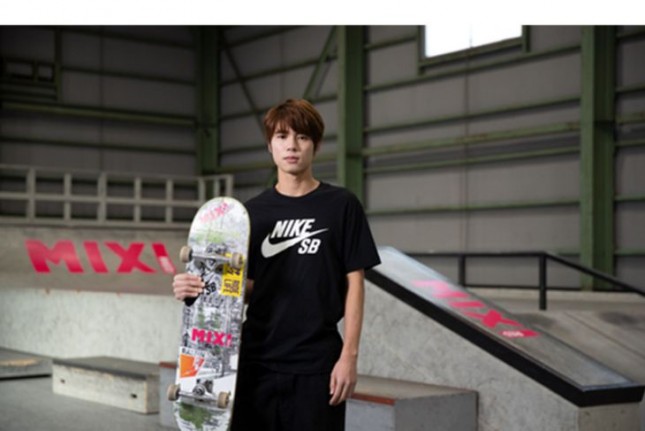 Yuto Horigome ©MIXI (Photo: Business Wire)
INDUSTRY.co.id - Tokyo,- Rakuten Sports today announced the start of general ticket sales for Uprising Tokyo Supported by Rakuten, an international skateboarding event to be held at Ariake Arena from May 26-28, 2023.
Tickets are now available via Rakuten Ticket, Rakuten Group's ticket service (*Japanese site).
The company also announced that professional skateboarders Yuto Horigome, Jamie Foy and Ishod Wair will compete in the event, which consists of both men's and women's street skateboarding contests held over three days.
The skateboarders will descend on Ariake Arena to compete on a street competition course designed and constructed by California Skateparks, a world-renowned company that specializes in designing and building world-class skateparks. Attendees can expect to experience thrilling street skateboarding action, as well as skateboarding's unique culture at the event, with music, fashion, food and beverages to enjoy.
Ticket prices for the May 26 quarterfinals start*2 at 3,000 yen (tax included), while ticket prices for the May 27 semifinals and May 28 finals and best trick competition start at 4,000 yen (tax included). Information on other competing athletes and event details will be announced on the upcoming Uprising Tokyo official site.
Official social media accounts for Uprising Tokyo have already launched, inviting fans to enjoy content such as behind-the-scenes footage and interviews with participant skateboarders.
Please see the Rakuten Group corporate site for the full version of today's announcement.
Participating athletes subject to change. Some athletes may compete only partway through the competition schedule.
Excludes high school and junior high school students & below seats.
Street competition consists of "runs" where athletes skateboard freely through the course for a set time, and a "best trick competition" where athletes perform one trick in a specific pre-determined location in the course. Runs will be held over all three days of the event. The best trick competition will be held only on the last day - May 28. Scores and rankings will be decided accordingly for runs and best tricks.
The dedicated Uprising Tokyo official site is slated for launch soon.
Yuto Horigome comment:
"I'm thrilled to announce I will be competing in Uprising Tokyo, a new skateboarding event held in my hometown of Tokyo in May. I am especially excited to share the stage with some of the biggest names in skateboarding, including X Games 2022 Best Trick winner Jamie Foy and Ishod Wair, whose fluid style is an inspiration to so many. With such talented competition, Uprising Tokyo Supported by Rakuten is going to be an unforgettable experience and I can't wait to put on a show for everyone in attendance."
Yuto Horigome profile
At just six years old Horigome started skateboarding, inspired by his father who was a vert skater. After years of dedication and practice as a child, he started to make his mark on domestic competitions in Japan as a young teen. In 2017 he won a place on the podium of Street League, the world's most prestigious skateboarding competition, and in 2018 he won his first championship, joining the ranks of the world's most elite skateboarders. 2019 saw him become the first Japanese skater to take home gold from X Games Minneapolis, the Street League in Los Angeles, and the runner-up spot in the World Championships. Horigome made history as the first gold medalist in men's street skateboarding at the 2020 Tokyo Olympic and Paralympic Games. His remarkable story is proof that with hard work, anything is possible.
Jamie Foy profile
Originally hailing from South Florida, Jamie Foy is known for being one of the most popular and hard-working pro skaters in the world. Jamie won the coveted Thrasher Magazine Skater of the Year award in 2017 and hasn't slowed down since. While not known primarily as a contest skater, Jamie won the prestigious Tampa Pro in 2022 in front of his crazed home state skate fans and followed it up by also winning X Games Best Trick in the summer of 2022. Jamie's current sponsors include Deathwish Skateboards, Red Bull, New Balance Numeric, Dickies, Thunder and Spitfire.
Ishod Wair profile
Ishod is the Michael Jordan of skateboarding. From the day he stepped on a skateboard he was hooked, and as soon as the skateboard industry figured out his potential, he quickly went from unknown ripper to sponsored amateur, and shortly thereafter was promoted to professional status, skating for Real Skateboards. Two years later, in 2013, he was awarded skateboarding's highest honor – Thrasher Magazine's Skater of the Year – and now has a signature Nike shoe bearing his name.