CMA CGM announces the creation of the Asia Pacific Hub of ZEBOX, a Global Accelerator of Startups
By : Nata Kesuma | Saturday, April 29 2023 - 07:15 IWST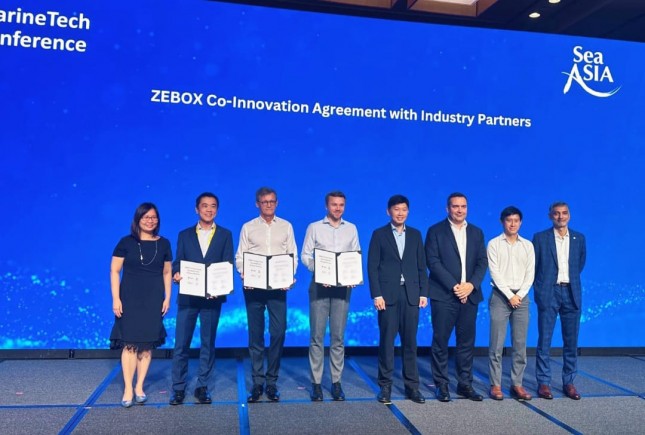 The CMA CGM Group
INDUSTRY.co.id - The CMA CGM Group, a global player in sea, land, air and logistics solutions, today welcomed the debut of ZEBOX Asia Pacific in Singapore.
As founding partner of ZEBOX, CMA CGM has continued to innovate through the global startup accelerator for excellence and sustainability in supply chain, logistics, transport and energy.
The Singapore-based startup accelerator is ZEBOX's 5th innovation hub in the world. All set to tap the vibrant and fast-growing Asian markets from Singapore, ZEBOX Asia Pacific is set to expand ZEBOX's global network of entrepreneurs, industry leaders and ecosystem experts. With innovation hubs in Europe, North America, the Caribbean and West Africa, this new hub in the Asia Pacific region will uphold ZEBOX's mission: connect startups and corporates to help them innovate together.
CMA CGM: investing for excellence and sustainability
ZEBOX was founded in 2018 by Rodolphe Saadé, Chairman and CEO of the CMA CGM Group as a community of the most promising startups and large companies that are dedicated to accelerating decarbonization and optimizing supply chain operations.
Taking its aspirations for ZEBOX to a new level, the CMA CGM Group launched on April 12th ZEBOX Ventures, a seed fund for French and international startups. The fund seeks to invest between €50,000 and €250,000 in about 50 startups each year, prioritizing shipping and logistics optimization; mobility; decarbonization and energy transition; process digitalization and artificial intelligence; and the future of work.
Today, the ZEBOX portfolio spans more than 130 early-stage businesses and has helped raise over $235 million in venture funding for the next generation of solutions.
Fueling co-innovations for smart shipping, logistics and supply chains across Asia Pacific
Home to over 4,000 startups and regional headquarters of global enterprises, Singapore is synonymous with her pro-business policies cutting-edge digital infrastructure, and a robust pipeline of skilled talents.
ZEBOX's foray into Singapore is set to not only inject dynamism into her startup ecosystem; but also fuel co-innovations for smart shipping, logistics and supply chains across Asia Pacific markets where the Group operates.
ZEBOX Asia Pacific launches with three new pioneering partners
ZEBOX Asia Pacific is supported by the Maritime and Port Authority of Singapore (MPA) and Enterprise Singapore which champions enterprise development.
PSA unboXed, PSA International's startup arm; Bureau Veritas Marine and Offshore, one of the world's leading ship classification societies; and Synergy Marine Group, a leading ship manager have become corporate partners of ZEBOX Asia Pacific. They join CMA CGM and 16 other major partner groups that are co-creating solutions with startups of ZEBOX.
Laurent Olmeta, Chief Executive Officer of CMA CGM Asia Pacific said: "The CMA CGM Group embraces innovation for excellence and sustainable transformation. We are thrilled that ZEBOX has expanded to Asia Pacific; and taken off the ground with three new esteemed partners in Singapore. We are grateful for the resounding support from MPA and Enterprise Singapore. From today, ZEBOX Asia Pacific will start initiating corporate-startup collaborations to future-proof tomorrow's supply chain with resilience, agility and sustainability."
"ZEBOX's goal is to connect the most promising startups with industry leaders looking at innovation as a mean of progress and path toward a more sustainable economy. With Asia Pacific being one of the most, if not, the most, active region in the world, it simply made sense for ZEBOX to launch in Singapore." said Gwen Salley, ZEBOX Chief Executive Officer.
"With this regional presence, we'll have the ability to unite ambitious corporate partners, and connect them with our global ecosystem, thanks to Singapore's pro- business policies, local talents, and vibrant tech support system."