Jababeka and Mitsui Fudosan Asia Launch Wimbledon Shophouse in Kota Jababeka
By : Nata Kesuma | Saturday, October 14 2023 - 08:15 IWST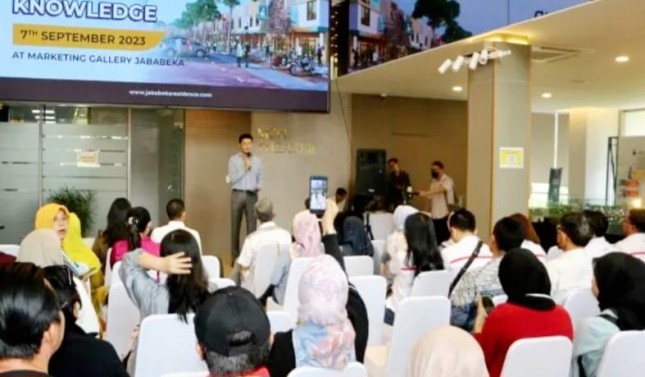 Jababeka and Mitsui Fudosan Asia
INDUSTRY.co.id - Cikarang - The property market in Jakarta's Eastern Corridor is increasing along with the resumption of national infrastructure projects in the region.
Jababeka as one of the well-known developers in this region experiences this positive dynamic. A number of residential projects and commercial areas have been well absorbed in the Jababeka Area, one of which is in Sport City.
Sport City Jababeka is located on an area of 34 hectares consisting of 4 clusters Rotterdam, Sevilla, Monaco, and Wimbledon where it has been sold and has begun to be occupied. Sport City also has Sevilla and Monaco shophouses which are also selling well so that the Sport City area is increasingly developing into a business and investment district.
Supported by various excellent facilities, one of which is a 1-area sports hub designed by international architect Aecom which is its own attraction and has never existed. This makes Sport City at the beginning of the launch get a positive response from the community with the trust to have residential and business places with complete facilities.
"Jakarta's Eastern Corridor has become one of the major growth centers in Indonesia. With a population of more than 1 million people, Kota Jababeka has enormous market potential. The sale of all units in Sport City gives us a new challenge to present a commercial area of Ruko Wimbledon that provides solutions to various community needs and opportunities for business people and investors," said Eric Limansantoso, GM Corporate Marketing Jababeka Residence.
This time Jababeka and Mitsui Fudosan Asia present shophouses that are of high value and have convincing business opportunities and investment potential. Mitsui Fudosan Asia is the largest developer from Japan that has successfully developed properties in several countries in Asia, Europe, and Australia.
Wimbledon shophouse located in Sport City is a further collaboration project between Jababeka and Mitsui Fudosan Asia which has previously successfully marketed Wimbledon housing clusters. Kota Jababeka has high potential and reputation that attracts investors and partners from within and outside the country.
Wimbledon shophouse is built with a shady and comfortable concept so that visitors who come will feel comfortable. In addition, the plaza and open areas are made with a Japanese atmosphere, with an Alfresco area of 3.7m.
With a large parking area, it will be able to accommodate more private vehicles such as cars and motorcycles with the concept of double-layer on-street parking. Wimbledon shophouses are built to unquestionable Japanese quality standards.
The amount of air circulation in the shophouse provides natural lighting into the shophouses so that the lighting will be optimal. Shophouses with good natural lighting can provide a bright, comfortable, and energetic atmosphere. This latest shophouse also has a backyard for a service area or kitchen which makes it easier for business people.
Wimbledon shophouse is also equipped with a number of facilities around it that provide added value for long-term investment. Not only that, the captive market around the location can be something worth considering, namely 10,000 residents around the Sport City area and the market potential of Jababeka development in the future.
Ruko Wimbledon is in a strategic location with easy accessibility and is the main connecting access to Pantura. At least more than 30,000 vehicles are recorded every day through this region and will continue to increase along with the development of the region. Ruko Wimbledon can also be reached through 3 toll accesses, West Cikarang, North Cikarang and Cibatu plus a location adjacent to Cikarang Station.
The strategic location and large captive market are the main things presented by Wimbledon Shophouse to business people and investors. We believe that Ruko Wimbledon can provide very tempting yields and capital gains for investors.
Now Jababeka is opening the first phase of Wimbledon Shophouse with prices starting at IDR 1.7 billion. Business people and investors can choose both types of Wimbledon shophouses, namely the corner type with the size LT / LB 60/100 and the standard type with the size LT / LB 48/80.
"We open up very limited opportunities this time, where only the first 12 units are exclusively offered to all ladies and gentlemen," Eric added.
He added that the development of Kota Jababeka does not only end here. There are still many developments and innovations being developed by Jababeka along with the growth of the area in the East Corridor of Jakarta.