KEIN: 4 Sectors Must Be Industry Priorities
By : Irvan AF And Aldi Firhand A | Thursday, August 24 2017 - 21:54 IWST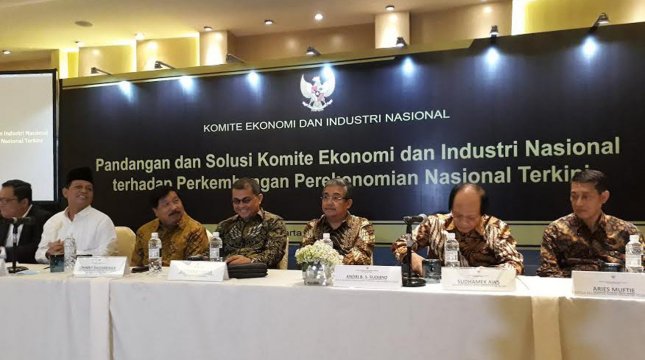 Chairman of the National Industrial Economy Committee, Soetrisno Bachir (second from left) at a focused group discussion. (Photo: Direction / Harry Muthahhary)
INDUSTRY.co.id - Jakarta - The Chairman of the National Economic and Industrial Committee (KEIN) Soetrisno Bachir proposed that four industry sectors should be a priority to promote and stimulate economic growth. Four industrial sectors consisting of agro industry, maritime, tourism, and creative industries are considered able to maximize the potential of Indonesia.
"There are 4 sectors that we need to prioritize, or priority industries in order to improve the national economy, agriculture industry, industrial maritime, tourism and creative economy," said KEIN Chairman Soetrisno Bachir when found at his residence on Thursday (8/24/2017).
According to the man who is familiarly called Tris, the agricultural and maritime sectors are very important priority because it can be an import substitution. The former Chairman of the National Mandate Party (PAN) assesses that Indonesia's dependence on imported goods will be cut off if the agricultural and maritime industries are developed.
"Agro industry and maritime industry will be our mainstay to cut imports, so we still import sugar, rice, salt, and various basic necessities.If agriculture and maritime we developed into the industry, will become import substitution". Tris said.
Tris also considered the two industries that are very suitable applied for priority. The reason, looking at the national demography of Indonesia, especially in the area so it can absorb labor with low education level.
"So far, our farmers and fishermen are still poor, their education is low, while they are scattered in remote areas, the amount of demographic bonus is not to disaster We should make demographic bonuses as assets, not liabilities" Tris.
Especially for the agriculture and maritime industries, Tris said, need special correction. He considered because at present, agricultural products can not compete with the international market.
"There are many irregularities that we have when we have everything, but because there is no focus we lose, including in the maritime," he explained.
He gave an example, in the previous maritime industry the government claimed fish in the Indonesian sea was stolen with a loss of 300 trillion per year. "Well now if it is not stolen, can we get Rp300 trillion? It's impossible because there is no focus," said Tris.
Two other sectors, namely the tourism industry and creative economy, according to Tris is also very important to be developed. According to him, the number of tourist visits to Indonesia should be increased through the packaging of creative industries that qualified.
"Indonesia is vast, its tourism is still less equals Malaysia and Thailand? We should be able to promote tourism, not just in Bali alone," said Tris.
"We can develop these four sectors with the help of creative economy," said Tris closing.