Mount Bromo Until Wayang Srikandi is on the AirAsia Airplane Body, Here's the Reason
By : Chodijah Febriyani And Aldi Firhand A | Thursday, September 14 2017 - 22:32 IWST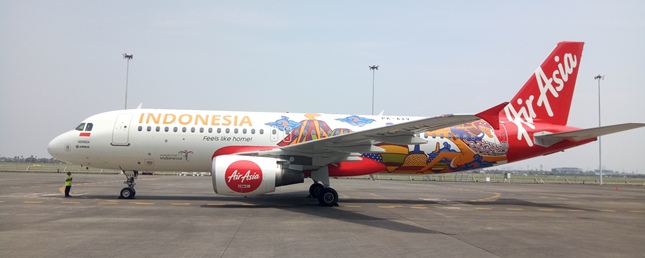 AirAsia Plane Show Wonderful Indonesia Logo (Photo: Chodijah Febriyani / Industry.co.id)
INDUSTRY.co.id - Cengkareng - To promote Indonesian tourism and boost the visit of domestic tourists and foreign tourists, AirAsia Indonesia airline inaugurated the logo "Wonderful Indonesia" on the fuselage Airbus A320-200 with registration code PK-AXV.
Airasia Airbus aircraft has a different design, because it displays the slogan of Indonesian tourism, "Wonderful Indonesia". In addition, it also displays a picture of Indonesian tourist destinations in the form of Mount Bromo, Prambanan Temple, Wayang Srikandi to Batik Megamendung which colored by various colors and patterns,
By displaying the logo Wonderful Indonesia is one way to promote Indonesian tourism in the archipelago or abroad.
According to Rifai Taberi, as the Director of commerce of Airasia Indonesia revealed the reasons behind the creation of the logo of Wonderful Indonesia and Indonesian destinations, "Actually more to the creative side, we see the iconic again in Indonesia is what," Rifai told Industry.co.id, in Cengkareng, Wednesday (9/13/2017).
"Bromo is quite liked by Indian tourists, and Thai tourists, because maybe in Thailand there is no mountain of Merapi. Well if Borobudur is already due to the seven wonders of the world and that's what our icons, and Wayang Srikandi which became the icon of Indonesian culture, "he continued.
Meanwhile, for the process of painting, he added, for seven days and we do the design process and other about two months of design and other licensing and for the design we pakain inhouse AirAsia Indonesia team itself.
Rifai said, this plane there are four hubs namely Jakarta, Medan, Surabaya and Bali and later this plane will rotate according to operational needs. "So maybe two months will be put in Jakarta, the next two months in Bali and for route we will focus if international route like, Singapore and if for example from Bali to Australia," he concluded, Rifai.