Degree of Various Activities, Perindo Embrace Young Creative Generation
By : Wiyanto And Aldo Bella Putra | Saturday, September 16 2017 - 22:30 IWST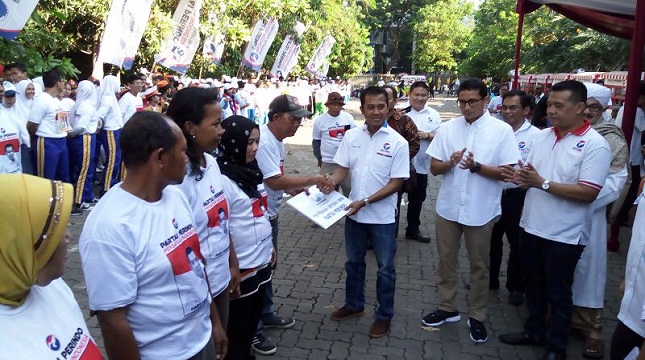 Sekretaris Jenderal Partai Perindo Ahmad Rofiq
INDUSTRY.co.id - Jakarta - Perindo Party held various activities that can channel the creativity of young people so as to avoid negative activities. Positive activities are also relied upon to keep young people away from drug use and avoid other negative lives.
This was conveyed by Secretary General of Perindo Party Ahmad Rofiq while attending the event 'Gema Merdeka' held by DPD Perindo Party of North Jakarta. In this event held various competitions, such as marching races, gymnastics contests, and other competitions that followed the people living in North Jakarta.
"This event is part of the development of the Perindo Party, we want to keep young people away from glamorous lives, we want to divert into productive lifestyles, they must be far from drugs for destroying their future and nation," Rofiq said at the North Jakarta Youth Arena, Jakarta, Saturday (9/16/2017).
Rofiq added, this kind of activity should be an example for other Perindo area managers, so that it can provide a channel of creativity for young people.
"We want this to be a role model, DPD in DKI Jakarta should do productive activities like this, besides we want to make Perindo a party of young people, so hope the nation's children," said Rofiq.
Also attending the event, Vice Governor of DKI Jakarta was elected Sandiaga Salahuddin Uno. Sandiaga also appreciate this kind of event.
According to Sandi, this event is important to generate togetherness and friendship among the people so that they can avoid the dangers of drugs and other negative activities such as brawl.
"With this kind of activity their energy will be focused on activities that generate togetherness, generating friendship, so if they are not channeled then they will be fighting, drugs, and with this activity they are trained," said Sandi.
At the same time, Kartini Perindo as a party wing organization also held a social event. This time, North Jakarta residents get a total of 1.25 tons of free rice.
"Kartini Perindo is delighted to be participating in the event of Merdeka Gema, we have brought 500 packs of rice as much as 2.5 kg which we give to the people who deserve it. Today is free of all," said Vice Chairman of Kartini Perindo, Ratih Gunaevy at North Jakarta Youth Arena.
Evi (35), a mother living in Kelapa Gading sub-district, North Jakarta, expressed her happiness when she got the rice that was distributed free of charge.
"Alhamdulillah this can be free rice.Insha Allah is useful for my family yes," said Evi who came with two children.