Healthy House Parigi Moutong is Ready Inaugurated by Jokowi
By : Irvan AF And Aldo Bella Putra | Friday, September 22 2017 - 19:30 IWST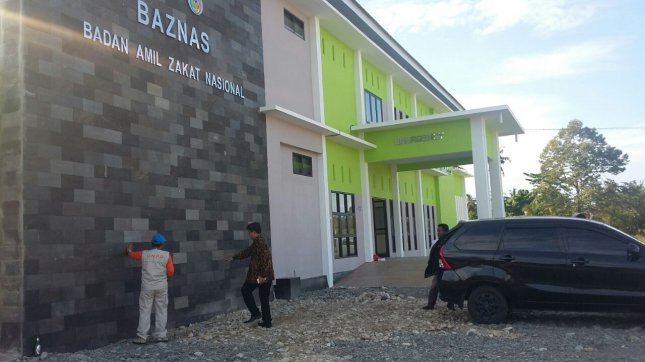 Rumah Sehat Baznas Parimo. (Foto: IST)
INDUSTRY.co.id - Parigi Moutong - Healthy House Construction BAZNAS Parigi Moutong (RSB Parimo), has been completed. RSB worth Rp 4.5 billion funded by Badan Amil Zakat Nasional (BAZNAS), is planned to be inaugurated by President Jokowi on Wednesday, September 27, 2017.
BAZNAS is a non-structural government institution whose one task is community empowerment and poverty alleviation. Also present, Chairman of BAZNAS Central Sulawesi Province Dr. Dahlia Syuaib, Head of RSB Indonesia (RSBI) dr. Meizi Fachrizal Achmad, M. Si and Head of Public Relations Parimo regency, Syamsu.
"Hopefully this RSB can be inaugurated by the President of the Republic of Indonesia because the local people are very grateful to the government and want Jokowi to be present in their midst," said BAZNAS member Irsyadul Halim during a visit to RSB Parimo in Siniu Village, Siniu Sub- Parigi Moutong District, Central Sulawesi Province, on Wednesday (20/9).
According to Ershad, the physical construction of the building is one hundred percent complete. Now live pairs of complementary means such as health equipment (alkes), electronic devices and furniture. Everything is on the way and the setting only takes a day or two. "We can conclude that everything is ready," he said.
Not only to RSB, had Ershad also taken time to review some points of location of beneficiaries of the BAZNAS program. Such as Zakat Community Development (ZCD), 20 boat assistance for fishermen of Siniu and Pelawa Baru villages, educational scholarships from elementary to university level, early childhood learning facilities, processing tools and patchouli seeds and brick marketing car for BMT Al Amin Palu.
Irsyad explained, RSB development is a superior project combined with the program of channeling Zakat funds, infak and alms (ZIS) BAZNAS.
Former Chief of Wakaf and Kehartabendaan PP Muhammadiyah (2010-2015), explained that RSB Parimo is the sixth one built and managed by BAZNAS after RSB Pangkalpinang (Bangka Belitung Province), RSB Sunda Kelapa Great Mosque (Jakarta), RSB Yogyakarta (DIY) , RSB Sidoarjo (East Java) and RSB Makassar (South Sulawesi).
RSB measuring 853 meters built two floors on a land area of ​​5,000 square meters. In the next year, RSB Parimo is projected to serve inpatient with capacity of 60 patients.
Irsyad added that the purpose of RSB development is to state access to health and medicine for the poor. "This is to provide a humane and professional service as an effective model of community empowerment, as well as a reliable solution in alleviating social problems," he said.
Meanwhile, Head of Public Relations Parimo regency, Syamsu, explained, in urban planning, later RSB also serves as a referral hospital and will be integrated with boarding schools, police and equipped the building of drug rehabilitation.
Head of RSBI Dr. Meizi Fachrizal Achmad, M.Si said that his office is scheduling the installation of supporting facilities such as alkes, furniture, electronic appliance, on Thursday (9/21), so visitation can be done on Friday (22/9).
"Visitation is checking list completeness RSB level clinic pratama this to get operational permit from Health Office of Regency Parimo. God willing, on Monday (25/9) we can get an operating license," he said.
According to him, in addition to monitoring the physical construction of RSB, on July 25, 2017, it together with Pemkab Parigi Moutong has selected and recruited 29 staff RSB Parimo. The employees who started work last August consisted of general practitioners, nurses, survey team, administration personnel, security guards and cleaning service.
Since July 27, 2017, continued dr. Fachri, the survey team has been actively working on recording prospective RSB members and capturing 150 families of mustahik. He has a team of six medical experts and hospitals. "God willing, we stay in Parimo until the inauguration ceremony is completed on September 27, 2017," he said.