Telkom Prepares Telecommunication Infrastructure Mitigation Plan in Bali
By : Wiyanto Dan Aldo Bella Putra | Sunday, October 01 2017 - 17:00 IWST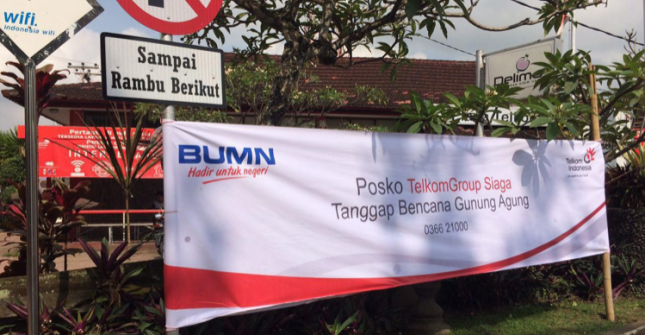 Posko Siaga TelkomGroup Bencana Erupsi Gunung Agung di lokasi Kantor Telkom Klungkung.
INDUSTRY.co.id - Jakarta - In anticipation of the increasing impact of volcanic activity of Gunung Agung, in Karangasem regency, Bali Province, PT Telkom Indonesia (Persero) Tbk (Telkom) is preparing various mitigation scenarios of infrastructure and telecommunication services in locations around Gunung Agung radius 12km, 25km, 50km, up to 100km.
Besides also trying to secure the means of production and of course prepare human resources and emergency relief for residents.
Telkom Network & IT Solutions Director Zulhelfi Abidin said that until now TelkomGroup service condition is generally normal, both telephone, internet, and cellular. In addition, the telecommunications infrastructure was in good condition. "The condition of infrastructure at a radius of 12 kilometers from the summit of Mount Agung in normal condition and running well," said Zulhelfi in Jakarta, Saturday (30/09/2017).
He explained that on the 12 kilometer radius there are 4 STOs, each STO Bangli, Amlapura, Candidasa and Kintamani and 36 sites Base Transceiver Station (BTS). In addition, there are 4 Optical Line Termination (OLT), namely in Tulamben, Sidemen, Bukit Tengah and Bukit Penulisan.
"To ensure continued service, monitoring and security of telecommunication infrastructure is our top priority. This is a step to keep the main services to keep functioning normally, especially for the needs of communication and coordination of disaster management," continued Zulhelfi.
In addition to maintaining these infrastructures, TelkomGroup is also preparing mobile BTS Telkomsel, Access Point Wifi.id, Indihome Fiber and also a cable phone at the location of the post to support disaster management.
Currently there are 10 service points for Mobile GraPARI (MOGI) and service booth of Telkomsel (TO) and Motor Recharge (MORE) ready to provide free telephone service for refugees as well as providing content service and other cellular services. The ten service points are in Ulakan Command Post, Banjar Jelantik Klungkung Command Post, Banjar Sengguan Klungkung Command Post, Sutasoma Field, Nyuhtebel Command Post, Manggis Market Post, Pesedahan Post, Swecha Pura Post, Nyuhtebel Singaraja Post and Tabanan Post.
Telkom has also established 'TelkomGroup Disaster Preparedness Post TelkomGroup Mount Agung' at the location of Telkom Klungkung office to keep telecommunication services be it fixed broadband or cellular so that people can communicate quickly, easily and comfortably, " said Zulhelfi.
As a form of State-Owned Enterprises, Telkom has also set up a standby station ready to provide telecommunication facilities and infrastructure in three locations, namely the command post in Karangasem, Emergency Response Post in GOR Swecapura, and Gunung Agung Post in Rendang, Karangasem. All posts have been installed internet network using Telkomsel and Indihome Fiber as a facility to facilitate communication. Telkom seeks telecommunication networks to continue operating normally in IDP sites.
"For people in need, we have provided free telephone facilities at evacuation sites, such as in GOR Swecapura," added Zulhelfi.
Meanwhile, in distributing Telkom's assistance in synergy with SOEs through the BUMN posts Present for the Land of Mount Agung Emergency Response under the coordination of the main post of PT. ITDC Nusa Dua. The synergy in the distribution of aid is intended to provide targeted, precise and appropriate assistance to the right kind of location and not overlap with other assistance. Posko BUMN Present for the country is divided into 3 areas namely Karangasem Post coordinated by BRI where Telkom incorporated in this region; Klungkung post coordinated by Pertamina; and Buleleng Post coordinated by ITDC.
The distributed donations include fast food, bedding, blankets, two clean water tanks, baby powder milk, masks and bottled water. Other assistance such as medical personnel and medicines are also prepared according to the needs and situation of Gunung Agung. Through these various assistance and anticipatory steps, it is expected that disaster mitigation efforts will run well and be able to minimize the impact of disasters.